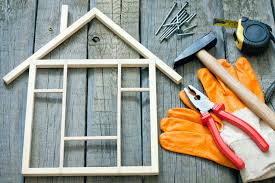 Home remodeling projects are typical when people want to upgrade their homes and make them more comfortable. Many of these projects come up because our homes are worn down. However, there is another trend of renovations coming up that has nothing to do with upgrading our homes for ourselves. It involves renovating the house to sell it for the best price possible.

People have now caught on to the idea that just by redoing some parts of your home, you can raise its value significantly so that you can sell it for the best price possible. When people are buying a home, they don't want to pick a home with old and worn out fixtures unless they are looking for a fixer-upper. So to improve the bid on the sale of a home, it's a good idea to do a few renovations beforehand that will upgrade it.
– Avoid major home remodeling projects
The first thing to understand when you are renovating your home for sale is not to invest in expensive renovations whose costs you cannot recoup from the sale. You need to remodel in such a way that you increase the value of your home so that you get a profit and also get back the cost of the renovations. The trick to accomplish this is to only focus on improvements that add equity value to the house.
Smart home remodeling projects to do before a house sale
–  Quick tip!
If you want to get value for money on your remodeling project for resale your best bet is to redo the kitchen and bathrooms. These are the two most important parts of a home that buyers look at when choosing a house to buy. You are more likely to recoup costs on renovations and improve the value of your home if you, do a good job renovating the bathrooms and kitchen so start with them.
Some good renovation ideas are:
Kitchen counters
Countertops are the one thing in a kitchen that potential buyers look at when searching for a house. They look at whether they are durable, attractive and also spacious enough. I like a kitchen with enough countertop space to do a lot of things in the kitchen. The same applies to many home buyers because the kitchen is one room in the house where we spend a significant amount of time. Therefore you need a lot of space to move around, work on and place items without it looking overcrowded.
Opt for granite countertops as they are always easy to clean, do not stain easily and they last longer. Formica is not a good option for a countertop, and if you have it, then you must replace it. Choose an attractive color of countertop material that blends well with the kitchen wall color and electric appliances.
Kitchen Cabinets and appliances
If you do not have enough kitchen cabinets, you can be sure it will reduce the value of your home. People need enough storage space for foodstuffs, utensils, cutlery, and crockery. These cabinets should also be at eye level so that it's easy to reach them. They should be made of durable wood and painted or vanished attractively. Any worn out cabinets or ugly colors will put off the buyers; so, ensure they are correctly finished and look attractive. Also, make sure that you replace any old appliances with new ones as they upgrade the kitchen significantly.
Kitchen sinks and backsplash
Apart from the cabinets and countertops, the sink area is another focal point for buyers. People look at the backsplash and the state of the fixtures at the sink. A good quality stainless steel sink is a good option as it is durable and easy to clean.
Also, invest in hi-tech faucets for your kitchen sink, and you will make the kitchen attractive to potential buyers. Here I am talking about taps that work on sensory motion whereby they let the water run when your hands are underneath them and stop when you move away. They help to save water and make it easier to use the taps as you don't have to keep turning them on or off.
Make sure that your backsplash is attractive and made of durable material. Tiles are a great option here as they are easy to clean and long-lasting. They should be of a beautiful color that matches with the other surfaces in the room.
Add bathrooms
First, consider increasing the number of bathrooms to match the number of bedrooms you have in the home and its size. There is no point of having a massive home with multiple bedrooms and only having a single bathroom in it. People will not be attracted to such a house because from the start they can see that there will be a shortage of toilets and baths when they move in.
Bathroom Fixtures and finishes
Once you are sure you have enough bathrooms in the home, it's time to look at the fixtures and finishes. You will not go wrong if you put up modern fixtures in your bathroom to replace old ones. Ensure you install energy and water saving bathroom fixtures as any homeowner these days wants to save on bills. A good example is a dual flush toilet that helps conserves water in the bathroom.
Fixtures such as rain shower heads, motion sensor shower heads, radiant heated floors or shower panels will also increase the value of the home. They make the bathroom more interesting and functional for the user.
Bathroom Storage space and ventilation
Storage space in the bathroom is also essential so that there is enough space to put in cleaning supplies and bathing essentials. Invest in vertical storage instead of horizontal storage space because it saves on floor space. For the same reason, put sliding doors in all cabinets, any storage area under the vanity and at the shower stalls and bathtub area.
Also, make sure there is adequate ventilation in the bathroom as inadequate ventilation will cause it to be smelly and even encourage the growth of mold and mildew. It can also lead to the damage of any wooden fixtures and painted surfaces due to excessive humidity.
Caulking
If the caulk in the bathroom around the tiles and bathtub area is old, then consider re-caulking it because it will affect the value of the home. Nobody wants to purchase a home with moldy or uneven grout hence this should be a priority. Grout is essential as it keeps water from seeping into unwanted areas in the bathroom to make sure it's up to date as required.
Home lighting
Lighting is also essential in home remodeling projects as it determines the mood in any room. Strategically place the lights in the home so that they illuminate a room but also give it amazing ambiance. The strength of the lighting matters too as some rooms need brighter lights than others. There are modern light fixtures that you can install in the house at a minimal cost that will help to save on electricity, and also make the house look attractive. Try and invest in such lighting solutions during your renovations to improve the value of your home.
Paint and varnish
A good coat of paint or varnish can upgrade the look of your home significantly. During your home remodeling projects, consider repainting the home's interior and exterior. Also, if you have wooden floors, then you must varnish them. If you have old carpets, it's a good idea to rip them out and polish the floor instead. Buyers are more attracted to shiny well- maintained wood floors than any other floor material in the home.
Home exterior 
Work on the exterior of your home so that the house looks attractive to the buyer from the first time they set eyes on it. You can do this by improving the lighting outside, putting a new secure steel door or covering the existing wood door with a fresh coat of paint or varnish.
It's also important to clean out the yard by getting rid of any debris and junk. If you have a messy garden, then you should spend time clearing it and making it look presentable. These are things you can do yourself that matter because your yard is the first place a potential buyer sees when they pull up to your home.
These are a few suggestions on areas in the home you can renovate before you sell it. Try and do as much as you can yourself but make sure you leave the tough technical jobs to the experts. For example, you can repaint the home or varnish old hardwood floors, but bathroom renovations require an expert.
Home remodeling projects before a sale can help you get more bids for the house and also ensure you get more money for it. They can also help you to sell your house quickly and at your preferred asking price. They are worth any time and money you put into them and should be done by any potential home seller.
About The Author
Lori Longoria is a writer, blogger, and much more. An interior designer. An artist. An entertainer. A person who genuinely loves interior design and the people it benefits. You can visit her at walkinshowers.org.