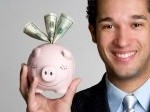 Too often that good old savings account has more of a spending feel about it – a place where your money goes before being dispersed to the various expenses of life.  So how do you start building up your bank account to enjoy financial growth? Here are five ways to boost your savings account.
1) Tighten Your Belt
Whether it's packing your own lunch for work, switching to a couple of no-name items at the supermarket or foregoing that shopping trip with friends, there is always room to tighten your belt a little.
2) The best place to start is by documenting your expenditures. Keep a little notepad on hand and note down exactly where your money goes each week. Chances are there are some non-essential items that can be shaved off the weekly ledger, and once you start putting that money aside a little can begin to go a long way.

3) Skip your weekday takeaway coffee at $4 a day.  That's a savings of $20 a week or more than $1000 per year. And that's just coffee, what about Pay TV or magazine subscriptions? There are savings to be made in a variety of places and once you start you can begin to make those savings work for you.
4) Take advantage of high-interest accounts. A sure-fire way to make your money do the legwork is to put it in a high interest bank account where it can sit there earning its own keep. Many banks have this option, you just need to check the terms and conditions. Some will have prerequisites about deposits, withdrawals and minimum balances.
5) Find ways to earn extra income. If you're really looking to boost your balance, then what about earning a little cash on the side? From selling off unwanted items to share trading there are a number of potential ways to earn a little extra cash.
6) Learn to trade stocks.  Trading on the stock market can provide you with extra income but you need to know how it's done, so check out resources from the professionals at Learn to Trade and learn concepts such as Forex trading strategies.
7) Sell your pre-loved goods.  This can also generate some cash flow as well as clear out your house, so why not host a garage sale or list some items on the internet?
8) Pay off your debt. Clearing or minimizing your debt will also generate extra savings in the long term but might be a financial hit in the interim. It's worth considering that minimum monthly repayments on your credit cards or loans are usually only interest plus a small repayment. That means your hard-earned money is going to a lender instead of your back pocket.
9) Increase debt repayment amounts. If clearing the debt is entirely beyond your means, why not try and increase your repayments? Even a small amount will make a difference.
10) Maximize your tax return.  Throughout the year, you should be considering your tax return. From work expenses that can be reclaimed to investment properties, your tax should be considered like forced savings where you can reclaim some at the end of the financial year.
Regardless of your pay packet or income, there is always scope to create and maintain a savings plan. It's about commitment, strategy and initiative.