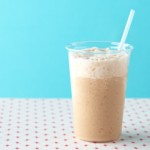 There are lots of neat things you can do to make this summer special and here are a couple of ideas that will refresh you and tempt your taste buds this summer:
Homemade Iced Cappuccinos.
Sure, a Tim Horton's  iced cappuccino doesn't cost a lot, but I recently started making homemade iced caps and they taste great. They're cheap and easy to make, they just take seconds.
To make enough for two, all you need is to blend the following:
½ cup of French vanilla cappuccino mix – it's best to buy it bulk as it's the cheapest that way
¾ cup of milk
2 cups of ice cubes
Just blend well and enjoy!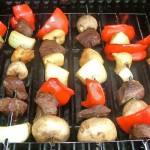 Kabob Marinade
I recently mixed together the ingredients below and found it tasted great for both chicken and beef kabobs.  So far I cooked my kabobs in the oven but I bet they would taste even better barbecued.  I didn't actually measure any of the ingredients, so just use your discretion with the amounts.  Marinade for at least 4 hours before cooking.  (You will hate me if you are one of those people who likes to measure everything, but trust me, I am sure you will get it right – just take the plunge!)
vegetable oil
prepared mustard
soy sauce
fresh minced garlic
lemon juice
black pepper
Worcestershire sauce