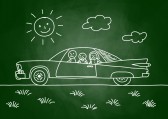 With gas prices seeming like they are a one-way bet heading north and so many financial cutbacks going on everywhere you look, a bit of penny pinching when it comes to running costs for auto owners is now pretty much essential to keep your finances on track.
Here are three money saving tips to keep your auto expenses to a bare minimum and keep as much money in your pocket rather than wasting it on paying out more than you need to.
Reassess your insurance
Making some adjustments to your car insurance needs can send the rate that you pay on a welcome downward spiral. There are several penny pinching ideas you can use to get lower rates and they can have a dramatic effect on the overall cost. The first thing to look at is to consider raising the deductible on your comprehensive policy which will mean that if you can stay out of trouble and avoid a claim you will benefit from a much lower rate overall. If you raised the deductible from $200 to $1,000 on your comprehensive policy you can save an average of 40% on the total cost.
If you have an older car, then think about dropping the comprehensive and collision coverage altogether especially if your annual auto insurance premiums are 10% more than the book value of the vehicle.

Keep your car for longer
We all know that cars lose value over time and you are never going to get back what you originally paid for it, so why not keep hold of your car for longer to get the maximum value out of your original investment?
One of the easiest ways to save money on auto expenses is simply to keep driving your vehicle for longer and as most cars are built to last longer, you should not have too many repair problems to worry about on your older car, especially if you have one with a 10-year warranty. Most people think about changing their car every 3-5 years but you are not getting the full value out of it if you sell too soon, so keep hold of your car for longer and save some money.
Buy a pre-owned car
When you finally decide to replace your old car, go for a pre-owned one for your next purchase rather than visiting the showroom, as this will save you some serious money and mean that someone else has taken the big hit on depreciation in the first couple of years since the car rolled off the production line.
The difference between the retail and wholesale price of a car is normally at least 20% so as soon as it leaves the car lot you have just taken a 20% hit if you bought new. Buying a pre-owned vehicle can save you thousands of dollars and many manufacturers also have certified pre-owned programmes which even take some of the potential risk out of buying a used car.
We all have to try and exercise a bit of penny pinching wherever we can, and by being a bit savvier with your auto expenses you can really see some serious savings.
About The Author
Sam Fenton has extensive experience in the auto insurance industry. His articles mainly appear on auto blogs.