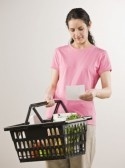 There are so many great ways you can save money on groceries, what with online coupons, online flyers, apps catering to the frugal shopper, and so on, but here are some tried but true things I've noticed that have saved me money while shopping in a local grocery store.
Really pay attention at the cashier line.  So many times I've noticed our local grocery store doesn't seem to update their computers to reflect the sales prices.  So, I have learned to watch the prices like a hawk as they are going through the checkout.  Multiple times I have had to point out that the price of an item was incorrect.  I've gotten kind of tired of doing this time and again, but it's either that or may way too much for my purchases.

Really read the sale signs or flyers.  Make sure you understand how the sale works.  Do you have to buy two to get the sale price?  Sometimes you do and sometimes you don't in my local grocery store.  So that means I have to really be paying attention.  You should never go to the grocery store hungry or thirsty because you will buy way too much food or beverages, but I would take this a step further.  Never go grocery shopping when you are tired.  If you do  you will not be on the ball and you will end up spending much more than you need to on your groceries.
Really watch the expiry dates.  Even the best stores will sometimes still have items that are expired on their shelves or in their coolers.  Watch the expiry dates to ensure you don't end up bringing something home that you can't even eat or drink.  The same goes for when you are buying milk, etc.  Try to select the product with the latest possible expiry date to avoid spoilage.
All these tips require that you are on the ball when you grocery shop.  Always make sure you have sufficient energy so that when you go home and look through your grocery receipt you won't have to shake your head in frustration.