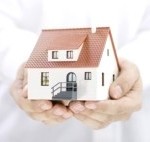 Keeping the home safe and secure should be a major concern for home owners everywhere, regardless of their location. The home is a castle, and you're right to be concerned about defending your castle. Home security is one of the most valuable investments you can make, but you may feel like your budget doesn't allow for a major expense. If so, consider these 5 easy ways to improve your home security without breaking the bank.
Lock Up Tight
Your first lines of defense in your home security plan are your locks. Quality locks on your doors and windows will go a long way in increasing your sense of security at home, and this is not a huge expense. You may want to replace the locks in a new move-in or if you've lost a key, but once your home's openings are outfitted with secure locks you should be able to feel safe. Be sure to use deadbolts, rather than door handle locks, to keep your doors shut when you're away from home.

Brighten Up Your House
Moths may be attracted to light, but thieves and burglars prefer darkness. Lights give the impression that a home is occupied and watched over by responsible residents, a major turn off for anyone who would try to breech your security. Additionally, outdoor lighting puts any potential burglar in the spotlight, making them less likely to approach the home and more likely to be seen if they should be foolish enough to make an attempt. Lighting up your house can go a long way in home security, and it doesn't have to cost a lot.
Put Emergency Contacts on Speed Dial
Part of a solid home security set-up is preparedness on the part of the resident. You should be ready to handle an emergency situation even if your home is locked and lit up, and you can make your emergency response time much faster if you have your important contacts on speed dial. This simple action will make you safer in home and outside, and it doesn't cost a penny. It's easier to press one button than three, and in the case of an emergency, the ease of contacting help can make an importance difference in your security and safety.
Block Out Prying Eyes
Privacy is important, and not always easy to come by. Our cities are crowded, and people are living in close quarters almost everywhere. Block prying eyes from taking a peek into your home by hanging drapes in all windows that make your rooms visible from the street. Keep any potential thief from even being tempted by denying them that first look into your home.
Consider an Alarm System
Alarm systems are becoming more affordable every day, especially in a time when technology is growing so fast. Yesterday's state of the art is quickly trumped by new offerings, but can still offer you a great sense of security. Look into companies like Athena for a look at top of the line security systems that can protect your family and your bank account. Security is a great investment, but there are plenty of ways to up your home security without dropping too much cash.