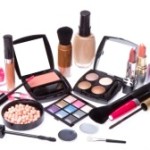 There are a few reasons why many women choose to minimize their beauty routine (or skip it altogether). Aside from the fact that there are so many products on the market that it can be difficult to determine which ones will serve you best, it can take a fair amount of time to put on all the lotions, potions, and cosmetics meant to transform you into the women you see on billboards and magazine covers (as if). And then there is the cost to consider, as well. But just because you have neither the time nor the money to engage in a high-maintenance routine doesn't mean you can't still enjoy some of the benefits that beauty products offer. Here are just a few tips that will save you time and money while still delivering the "naturally" glowing or glamorous look you desire.
Try 2-in-1 products. You've no doubt seen moisturizers that come with an SPF or those that boast a tint. And there are stains that can be used on both lips and cheeks, just for example. The great thing about these products is that in addition to saving you time and money they can also cut back on the amount of space you must devote to beauty supplies in your medicine cabinet or purse. It's a beauty trifecta! So look for products that fill more than one need. A good place to start is with BB creams that often provide for a multitude of beauty needs.

Get on board with mud masks. You might balk at adding one more product to your beauty lineup, not to mention a half an hour of down time once or twice a week. But the truth is that a simple mud mask can help you to give up the time and money you might spend on a slew of other products. They clean, purify, and tighten pores, cutting down on breakouts that lead you to use reactive measures like toners, acne creams, concealer, and more. You should look for a clay-type mask to draw out impurities and reduce oil, but since these can be drying, keep an eye out for products that also contain ingredients like avocado, jojoba oil, or other natural moisturizers (even if you have oily skin).
Skip the beauty counter. You might think that the products at the pharmacy aren't as good as the pricy items you get from department stores, but this isn't necessarily true. For example, the Olay Regenerist line has outperformed far more expensive competitor brands again and again in blind tests, proving that you don't necessarily have to spend major money in order to get the best beauty products. As for saving time, you probably have to go to the pharmacy for other items anyway, so you can work your beauty buys into a trip rather than making a run to the mall and getting stuck listening to the up sell from commissioned sales girls.
Have a polish party. Tired of going to the nail salon for color changes but you're just not that good at doing your own nails? You've probably got a few girlfriends in the same boat, so why not get together once a week to do each other's polish? You'll save a ton of money (and probably some time) over trekking to the salon and you won't have to fret about getting your dominant hand to look as good as the less dexterous one. Plus, you'll have some fun with your gal pals in the process, which is never a waste of time.
Cheap hair touch-ups. With products made specifically for touch-ups you can save a lot of money in between dye jobs and really get the most out of your professional color. But did you also know that many stylists offer free (or cheap) bang trims if they did your original hair cut? So skip the disaster of trimming your bangs at home and pop in to the salon between cuts. And when it comes to styling tools, splurge a little. You'll pay a bit more when you buy Chi flat iron products, but considering how long you'll have them and how well they work, you'll get your use value. Plus, cheap products are more likely to fizzle out and require replacement.