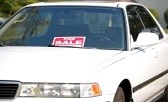 Selling your old car online is fast, effective and convenient with reputable companies like We Buy Cars.  In the old days your options for unloading your used vehicle were few. You either had to put a "for sale" sign in your back window, purchase a classified ad in the local paper, or trade your car in at the dealership. However, classified ads are expensive, putting a sign in your car won't yield great results and trading your car in at the dealership won't get you the best deal. Yet, taking a few photographs of the exterior and interior of your vehicle, writing out your sales pitch and then posting the car for sale online is free and far more effective.
Here are 5 benefits of selling your old car online.
It's fast. With the amount of people looking for used cars in a specific city, you could end up posting your vehicle for sale in the morning and then find a buyer only a couple of days later. If you put your car for sale on different online selling platforms at once, the turnaround time is even faster. Who knows, you could end up selling your car the very same day you post it for sale.

More information. Purchasing a classified ad will only give you so many words for your sales pitch and it can be expensive to purchase the option that allows you to include a photo. However, when you post your old car for sale online you can post multiple photographs at once and have much more room to make your pitch.
You'll get a better deal. If you trade your car in at the dealership you could end up getting a really poor deal for your vehicle. In most cases, dealerships will try and low-ball sellers as much as possible. Moreover, they strictly go by the market value of your old vehicle and the condition it is in. When you sell your car online you can often get a deal that is better than market value. Because there will be so many people trying to make an offer, you can have the freedom to name your price for what you think your old car is worth.
It's easy. Selling your car is now easier than ever, for both sellers and buyers. Choosing a site, like The Car People (www.thecarpeople.co.uk), or any number of websites that allow people to post their old vehicles for sale, is as simple as uploading a few photographs, typing in your location, the price of your used car, and writing out your sales pitch. For buyers, all they have to do is search a certain make and model, and a price range, and there is a much better chance of people finding your vehicle.
It's a better experience. Putting a "for sale" sign in your back window can seem a little desperate. And taking out a classified ad is expensive and doesn't give your vehicle the "wow" factor it deserves. Selling your used vehicle online feels professional and you can have better control over the people that see your listing. Selling your car online just might be the only way to sell your old car, especially in this day and age.