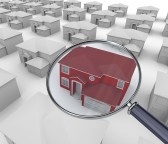 Buying your first home is bound to be something of a roller coaster. For one thing, there's a pretty steep learning curve associated with the process, and when you don't even have the faintest clue of what you need to know, it can definitely be frustrating. However, an experienced real estate agent can help you here. The bigger issue is that buying a home is an undertaking fraught with emotion. It's both exciting and joyful, but at the same time scary and daunting. And this abundance of emotions, paired with your inexperience, can lead you to make all kinds of mistakes in the home-buying process. So if you're looking to avoid potentially costly errors, here are just a few common mistakes that the average new buyer may come up against.

Failure to check your credit. It's important to know going into your home-buying experience whether or not your credit checks out. Prospective mortgage lenders will certainly check, and you need to know whether they're going to discover a low credit score, black marks, or even fraudulent activity that has compromised your credit rating. The best reason to check your score ahead of time is so that you can clear up any problems and get your credit in ship shape before you apply for a loan, ensuring the best possible tier of credit and the lowest interest rates. You can order a free copy of your credit report from AnnualCreditReport.com.
Failure to get pre-approved. If you fail to get pre-approval from a lender before you start shopping, you'll face two major problems. First and foremost, you won't have a clear idea of your price range. But you could also have difficulties when it comes to putting in an offer on a home you want to buy, especially if the sellers have other offers (from qualified buyers) or they're looking for a quick escrow because they've already purchased another property.
Shopping outside your price range. It can be tempting to "just look" at real estate that's not in your budget, but this is a big blunder. When you find the home of your dreams and you can't afford it, you might be tempted to try living outside your means. This can only spell financial trouble. But even beyond that, nothing in your price range will look as good once you've found your dream home and it's out of reach.
Failure to prioritize. You should definitely sit down with a paper and pen to make a list of what you want, what you need, and what you simply cannot live without before your start looking at houses. It's also a good idea to prioritize that list to ensure that you find at least your top 3-5 must-haves in any property you look at.
Skipping the inspection. No, no, no! Don't ever skip the inspection. "As is" opportunities have the potential to deliver low prices on spectacular properties, but if anything goes wrong, the previous owner may not be held liable when you purchase in "as is" condition or agree to forego an inspection. If you don't mind shelling out the dough to deal with pest infestations, dry rot, roofing issues, leaks, cracked foundations, asbestos, or anything else that may pop up when you start doing renovations, then by all means, skip the inspection. But as home buying mistakes go, this is one of the worst, especially since most first-time buyers are ill-prepared to deal with such problems. If your agent doesn't warn you when you start looking at "as is" properties, you might want to find new representation from a reputable and experienced firm like Century 21 Cityside.