1.  Consider buying a Macintosh computer.  My husband and I have had the best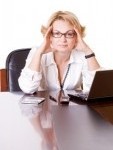 experiences with Macintosh computers because they never seem to give us any trouble.  I can't recall even one time that we had to restart it due to an error.  They are more expensive than PCs and at first I wasn't sure it was worth spending the extra money, but based on our positive experiences with our Mac mini
, I would highly recommend Apple computers to anyone.  They are less likely to give you trouble with spyware or viruses and they will save you from a lot of grief and frustration.
2.  If you use a PC, there are some simple things you can do to prevent paying hefty repair fees.  If you are getting strange errors that you don't understand, the best thing to do first is to simply restart your computer.  Sometimes it works better if you shut it down completely for a few minutes.  I'm not  sure why, but often this fixes the problem.
3.  If that doesn't work, before calling the repair shop, try updating your operating system.   Often that is the first thing the repair guy will do anyway, and it might fix your computer problem.  Why pay someone the big bucks to update Windows when you can do it yourself?  To update Windows, launch the Internet and open up your browser.   Click on the "Tools" menu at the top of the page and click on "Windows update".  You will then see the Microsoft website which will check to see if your computer needs any updates.  Follow the prompts to download the updates and hopefully your problem will be solved.  If you use Windows XP, the computer can update automatically.  All you need to do is go to Start, Control Panel, click on "Security Center" and then turn on "Automatic Upgrades".  If your computer still has problems, at least the repairman won't have to spend extra time doing updates on your dime.
4.   Keep your laptop battery healthy by letting it completely drain before recharging.  If you keep it plugged into the charger all of the time it will weaken your battery.
5.  Speed up your computer by removing programs you don't use.  If you use a Windows operating system, you can get rid of unused programs by going to the Control Panel and selecting "Add or Remove Programs".  Simply browse through the list and remove the programs you are sure you won't need.