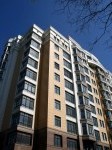 While most of us would like to one day attain the American dream of owning a home, there are plenty of people that, for one reason or another, end up living in apartments. Perhaps you are in a stage of your life that is impermanent, and the thought of buying and selling a home in short order is simply undesirable. Maybe you don't have the money to pay a mortgage or you're saving up for a down payment on property. Or it could be that you just appreciate the benefits of apartment living, particularly the lack of maintenance duties. Whatever your reason for living in an apartment, though, you're probably interested in paying as little as possible for an acceptable living space. Here are a few easy and effective ways to save on apartment living.
Downsize. Sure it's nice to have that extra bedroom for a home office or to accommodate guests, but extra space definitely means additional rent that you may not be able to afford. If you're looking for ways to save on the cost of renting an apartment, the easiest and quickest solution is to downsize to a flat that features less square footage. This could mean swapping out oversized furniture for convertible options, but the money you'll save could net you a nest egg for the property you hope to purchase one day.

Compromise on location. You don't necessarily have to live in the downtown area where you work and where rent is sky-high. Instead of paying an arm and a leg for this convenience, think about looking a bit outside this desirable area. You'll find that your money goes a lot further in the suburbs. And if you want to avoid a horrendous commute, find apartments that are in proximity to public transit stations, especially trains. You'll enjoy the low rent you crave, you'll get more space for your money, and you can even save by taking mass transit rather than buying a car for commuting.
Get a roommate. If you don't mind sharing common spaces, taking on a roommate can not only lower your rent, but it can net you a much larger apartment for less than what you might pay for a studio or a one-bedroom place. Say a studio will cost you $800, a one-bedroom goes for $1,100, and a two-bedroom comes in at $1,400 a month. By getting a roomie and taking the two bedroom place you'll end up paying $700 a month when you split the rent, and you'll likely get more square footage in areas like the kitchen, living room, and bathroom, as well. The flip side is that your utilities might be a little higher due to the additional space and more people using water and power, but you'll likely split these costs, as well.
Airbnb. If you're not keen to have a full-time roommate, but you're not opposed to sharing the costs of rent, then a site like Airbnb could provide you with the extra cash you need to pay for your apartment. This is an especially good tool for anyone who lives in a desirable urban center, near downtown amenities that visitors want to see. And whether you have a couch for people to surf or you've got a spare bedroom, you can use your space to make some dough on weekend and holiday travelers looking to save over renting a hotel room.
Rent control. Even if you manage to get a great deal on the price of your apartment, rates could go up every time you renew your lease. So if you're looking to save money renting, it's probably in your best interest to skip the apartment that has the right price now and instead use an apartment finder to help you locate one that is rent controlled. This will net you a price that remains relatively low thanks to government regulation, rather than rent that is subject to changes in the housing market of the whim of a landlord.