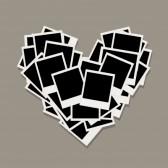 Chances are that you currently have thousands of photographs on your computer hard drive. You might not know it, but a lot of those photos can make a great, affordable gift for someone you love. There are a number of ways to select the photos you want to share to create gifts for your significant other, a graduation gift for your son or daughter, a baby shower gift,  or an anniversary gift for your husband or wife – the list really is endless. So, if you are looking for the perfect gift – that won't set you back too much money – why not go with something photo related?
Here are 5 easy and inexpensive photo gift options:
Everyone needs a magnet for their refrigerator. Refrigerator magnets are one of the most utilitarian items in the house. They hold up notes, photographs, drawings, menus, reminders and much, much more. If you want to give someone a photo gift that will last a lifetime, why not make a photo magnet that they can put on their fridge? If it's a close friend, perhaps you can include a photo from a recent vacation or an event you attended together. Also, Father's Day is coming up; why not make a magnet for dad?

Slideshows. One of the most touching ways to express to someone that you care and love them is to make a unique photo slideshow of all the best photographs pertaining to your specific relationship. There are many slideshow programs online, which makes putting one together affordable – sometimes completely free – and very easy. Just add some music or your favorite song. Surprise that person with the video at a party or send it to them while they are at work – you might just get a tear or two.
Magazine cover. If you are looking for a fun, novelty photo gift idea, why not Photoshop their face onto a magazine cover, print it out and then have it framed. This is a sure fire way to give someone a smile when they receive your gift. Not only that, but it will also look great on their wall in their office – it will surely get a lot of questions, especially if it's a popular magazine.
Photo book. One of the best and simplest ways to give someone a gift that utilizes photographs is with a custom made photo book or photo album with photographs. There are many companies that allow you to simply choose the photographs, upload them and then customize a few options and a few weeks later you have a professional, high quality photo book. This is a great gift idea for grandparents and recent grads.
Lastly, if you really want to impress someone, why not make them a photo collage? This is a great, non-digital option if you want to give someone a fun, creative photo gift that they can hang on their wall and enjoy for a lifetime. The best part about collaging is that it can be a really fun and creative process.