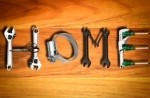 When it comes to selecting home improvement projects, you might be worried not only about the expense and difficulty involved, but also the potential for return on investment. After all, you don't want to sink a ton of money into your property with no hope of getting it back. Even if you stand to enjoy your upgrades for a few years to come, you have to seriously consider how much that satisfaction is worth to you. For example, knocking down a wall between two bedrooms to make one huge living space might please you, but you'll lose money on resale with a listing that features one less bedroom, and that's in addition to whatever you spend in the process. Luckily, there are tons of home upgrades that will improve the look of your space for very little cost and effort. And while they may not add to the overall monetary value of your home, they definitely stand to up the ante when it comes to aesthetic appeal.
Color trends. Whether you're thinking of painting the interior or exterior of your home, you should know that this is one project that you can not only complete on your own for little expense (and with little skill), but it stands to make your house more modern and appealing to the average buyer. The trick is to capture timely trends where color is concerned. Since shades tend to go in and out of fashion fairly quickly (within a few years), it behooves you to update the color palette for both your own enjoyment of the space as well as a means of gaining the interest of buyers.

Hardware. The hardware in your home, from items like drawer pulls to plumbing and lighting fixtures, is subject to trends, just like paint. So if you've been in your home for a while, or you happen to live in an older home, perhaps it's time to think about replacing those shiny, gold accent pieces with something that happens to be trending currently, such as brushed nickel or even antique brass. This is a great way to update the look of your home for very little time and expense.
Chips and cracks. You may have stopped noticing small flaws like the chipped tile in the bathroom or the cracked baseboard by the front door; stuff that is on your to-do list but holds low priority. But prospective buyers entering your home are likely to spot these issues and ask for allowances to fix them. So instead of letting the little things get away from you, take the time to fix them. They don't cost much and they could just help you to get your full asking price rather than giving allowances.
Appliance panels. You might not have the cash on hand to upgrade to all matching appliances, and if your products are already energy-star rated and they're in good working condition there's really no reason to replace them. But you can save your dough and get a matching kitchenette by purchasing replacement panels. Best of all, you can get any look you like, from metal to colored plastic to faux wood grain.
Landscaping. A little attention to the exterior of your home goes a long way towards making a good impression through curb appeal. So clear out old brush, tend to your patchy lawn, fill cracks in the walkway, and add a few bright blooms to your yard. And consider that you could save money with plumbing maintenance for your sprinkler system by installing drought-resistant plant life that needs far less water and using a cistern to collect rainwater for your landscaping.