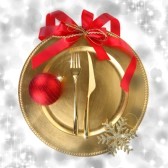 One of the best things about Christmas is that it comes with its own traditions. For some of us, it's going snow skiing or ice skating. For others, it's going Christmas caroling or attending the Nutcracker at a local venue. And then, still for others, it's throwing an annual Christmas party.
If you happen to be someone who falls into that third category but this year, you're looking for some tips on how you can throw a party that will be a hit without breaking your budget, we've enclosed our top five frugal Christmas party planning tips below:
Plan your party. Sometimes, we end up spending more money than we would like simply because we didn't make the time to create a plan for our party. But the sooner than you know the amount of people you want to invite, the kind of theme you'd like to have and the type of food and drinks that you'd like to serve, that can help you to stay focused once you head out to the stores.

Serve appetizers or have a potluck. If your party is going to consist of 10-12 guests, then a full-course meal is probably not going to overwhelm you. But if you plan to host several people at once, our recommendation is that you either go with appetizers or that you have a potluck where each guest can bring a dish. If you decide to go with the first option, you can have a wide variety for people to choose from. If you go with the latter, you won't have to worry about providing anything other than the turkey or ham which could be a real money (and time) saver.
Have a "theme drink". There's nothing wrong with serving alcohol at your party. But if you're looking to offer bottles of champagne or beer, that's going to cost you a pretty penny. Our suggestion is to go with a signature drink instead. Some really popular ones include Frozen Cranberry Margaritos, Hot Cider Nog, Cherry Frost, Jingle Juice and Pomegranate Mimosas.
Use your own plates. After you put on your ugly Christmas sweater so that you can go out and pick up some last minute things, you might wonder if you should purchase some paper plates. Our vote is that you forego that and actually use some of the dinnerware that you already own. If you feel like you don't have enough pieces, go to the Dollar Store or Wal-Mart to get a few more plates, glasses or silverware. That way, you can use those items over again and there won't be so much trash to clean up afterwards.
Get creative with decorations. Of course it's nice to create a bit of Christmastime ambiance at your party but that doesn't mean that you have to break the bank in order to do it. Chances are, you already have quite a few decorations at home from candles to Christmas ornaments and lights to even selecting a few pinecones outside. Just remember that the more creative you are, the more surprised you just might be by all of the decorations you made without spending a single dime. For more information on how to make great holiday decorations, go to Real Simple, Houzz or HGTV and put "DIY holiday decorations" in the search field. Happy Holidays!