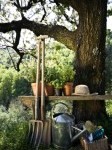 Springtime is here. As the weather is warming up, the days are starting to get longer and we all start to see the beginning signs of plants and flowers in bloom, we totally understand why you might find yourself having the urge to get out and do a bit of gardening.
Due to the fact that sometimes the cost of equipment and tools can be a little expensive, we wanted to be able to provide you with some frugal gardening tips for spring. That way, while your garden may end up looking like a million bucks, you won't have to spend that much money for those kinds of high-end results.
Know where to get your plants. There is sometimes a misconception that in order to start a garden, you need to buy new seed and plants when that isn't necessarily the case. There are local nurseries and botanical gardens that will sell you their plants that appear to be a bit more withered and worn for a discounted price. You can also speak to them about giving you plants that are considered to be out of season. Also, if you are planting a fruit and vegetable garden, remember that many of the foods that you already have in your refrigerator have seeds in them. Preserve some of those rather than purchasing new packets.

Be smart about your gardening tools. Depending on what you need, going to the store to buy some new gardening tools can get a bit expensive. The good news is that there are some things that you can do to save some money on them. Instead of buying some brand name pruners, go to a dollar store to purchase some kitchen shears; use a plastic dishpan to serve as your potting bench; cut an old terry cloth towel into strips that can support the stems of your plants as they grow, and also cut some milk cartons in half. That way, you can place the top part of them over some of your new buds (it provides a cheap and effective greenhouse effect) and you can fill the bottom part with your mulch or fertilizer.
Conserve water. If you asked a landscaping company like RTC Landscaping what you can do to save money while doing your own gardening, one of the things that they might recommend is that you don't rely on your outdoor garden hose to do the watering. Water that came from washing your dishes, feeding your pets and even washing your car can all serve as great hydration for your growing flowers and plants.
Make your own hand cleaner. It can be cleansing for the soul to do some gardening, but physically, it can definitely leave you a bit on the dirty side. Rather than purchasing a commercialized brand of soap, make your own tough hand cleaner. All you need is 1/4 Cup grated Fels Naphtha Soap Ends, 2 tablespoons of fine sand or pumice, 1 cup water and a 2 cup plastic container. For step-by-step instructions on how to make it, go to LivingonaDime.com and put "tough hand cleaner" in the search field.
Make your own mulch and fertilizer. And finally, all gardeners need mulch and fertilizer. Due to the fact that a lot of the commercialized brands contain toxic chemicals, commit to making your own instead. You can cut up some of the branches leftover from pruning your trees to make wood chips that can serve as mulch. Also, some homemade compost is undoubtedly one of the best kinds of fertilizers that you can use. For information on how to make your own liquid compost, visit RecipestoNourish.Blogspot.com and put "homemade liquid compost" in the search field.