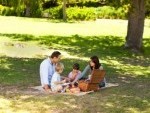 One thing about having children is that they are constantly looking for ways to be entertained. So, while parents find the idea of sitting on the couch and reading a book on the weekends to be absolute heaven, they know that their kids are not going to settle for more than a couple of hours of peace and quiet. This means that there have to be activities "on tap" for parents to be able to provide.
The wonderful thing about this article is that you don't need to spend a lot of money to apply any of these recommendations. Indeed, there are many things that you can do that are fun for both children and adults with the added bonus being that they are also relatively inexpensive. Here are just five of them:
Do some arts and crafts. A part of the joy of having a child is that they love to learn to do something new. Whether it's finger painting or jewelry making or learning how to knit or crochet (or even build models), consider setting some time aside to do some arts and crafts. It's nice quality time that you can spend with your child and certain learned activities can stay with them for years to come.

Have your own "field day". In this electronic-consumed world, for some children it's a foreign concept to go an entire day without their computer or cell phone. One way to get them outside and exercising is by orchestrating your own field day. Come up with things like wheel barrel racing and tire jumping to do and then offer prizes for the winners (kids love getting prizes, even if it's just a ribbon!).
Host a slumber party. Something that will never get old is a slumber party. Whether you let your kids invite a couple of their friends over or the entire family decides to "camp out" downstairs (or even outdoors in sleeping bags), it can really be a lot of fun. All you need are some pajamas, a few movies and a couple of pizzas delivered and you're all set.
Tour your city. So many people have lived in their hometown for years and have never checked out the tourist attractions. Another great idea is to hop on a metro bus or subway and "play tourist" for a day. Visit the local museums and historical buildings. Try a new restaurant or sit in the park with your picnic backpacks. For some added fun, bring your video camera along and have your kids play like they are hosting their own "see my city" video show. It's a memory that you can cherish (for cheap).
Cook together. The great thing about cooking with your kids is that one, you are getting some help in the kitchen and two, you are teaching them a skill that they can use for a lifetime. One way to make it more exciting for your children is by sitting next to them as they go online searching for a recipe to try. This is another activity that you can video tape and even set up as a cooking program. You never know, it might be able to turn into your own series that you could put up on Facebook or YouTube for others to enjoy (just a twist to the idea). Enjoy!