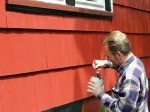 One thing about owning a house is that you are the one who is responsible for paying the price that comes with making all of the home improvements. And so, in between paying a mortgage, keeping up with the utility bills and caring for all of your house's maintenance needs, we totally understand why you would look for how to spend as little money as possible on major home improvement projects. We did a bit of searching around for you and have provided five projects that you can get done for under $5,000.  Here goes:
Landscaping. Before someone even begins to set foot into your house, they will notice your lawn. That's why, especially during the spring and summer months, it's important to have some landscaping work done. This doesn't just consist of mowing the lawn, but also trimming hedges and bushes, planting flowers, installing a water feature (if you would like)—in general, coming up with an overall landscaping design for your front and backyard to last you year round. A thorough job will run you approximately $4,000.

Exterior paint. Speaking of outdoors, another thing that can be done to greatly improve a house's appearance is to have the outside of it painted. If your house is made out of wood siding, customarily it will require a new coat of paint and sealant between every 2-10 years and every 15-25 years if it's made with fiber cement. The cost will be around $3,000. Speaking of paint, if you want to spruce up the interior of your house, a home that's between 1,200-1,500 square feet will cost, on average, between $1,100-2,000.
New countertops. If you're someone who is thinking about putting your house on the market in the next couple of years, many contractors and real estate agents will tell you that installing some new kitchen countertops is a real selling point for many potential buyers. One kind of countertop that is a favorite among many house builders and interior designers is granite. It comes with the price tag of about $4,500.
Laminate flooring. Speaking of improving the value of your home, another thing to consider is adding some laminate flooring. Many people love how hardwood floors look and thanks to having laminate as an option, you can provide the appearance of hardwood without paying what it costs to install it or to keep up with how high maintenance hardwood floors tends to be. While laminate flooring is around $3,900 and that might seem a bit pricey, you can pay as much as double for hardwood floors and so, it's actually a bargain.
Heat pump. If you ask an electrical contractor such as ERH Power Inc what they think a good home improvement project would be, they would probably put getting a new heat pump on the top of their list. The main reason is because it's a wonderful heating and cooling alternative to a standard heating and air unit; one that is definitely more eco-friendly and cost efficient. So, what does a new heat pump cost? It's less than you might think. You can get a quality one for around $4,900 and what it saves you on energy bills will make it more than worth the initial investment within the first few years.