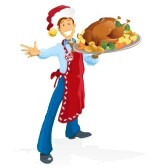 The holidays are a festive time of year when we are able to get together with family and friends for food, gifts and wonderful memories. While the holidays are great, they can also become very expensive. Aside from your holiday shopping list, a lot of the electronics and appliances in your home can actually be costing you a significant amount of money. Here are 5 helpful home energy savings tips to help you enjoy a less costly holiday season this year.
The first culprit is the stove . Often much of your energy use will take place in the kitchen where you are cooking up yummy dishes to entertain your holiday guests.. When cooking, it is always tempting to open the oven and take a peak at how the food is coming along. This is not a good idea since opening the stove, even just momentarily can lower the oven's internal temperature by about 25 degrees Fahrenheit! Instead of opening the oven and allowing lots of heat to escape, save energy by using the oven light instead. This way to can see the food's progress without causing the stove to have to work harder to keep a consistent temperature.

Don't use too many appliances at once. Often a microwave can do the trick! Instead of using the stove and oven over and over, consider cooking a few things in the microwave. Microwaves may not work for everything, but they are useful for steaming veggies, cooking yams, or even heat a dish up a bit more before serving. Plus, microwaves use 50 percent less heat than most other kitchen appliances, helping you to save energy as well as time!
Your refrigerator will also be used frequently during the holidays. These appliances, energy efficient or not, typically cover about 15 percent of your home's energy bills each month, so they are appliances worth noting. To improve the energy efficiency of your refrigerator and freezer, try to keep them closed as much as possible. However if you do need to put a lot of away or take things out, it is better to leave the door open until you are done rather than constantly keep opening and closing the door. Since you will likely have a lot of food in the fridge, the efficiency will go up since the more cold or frozen food present, the easier it is for your refrigerator to preserve the cool temperatures. Don't cram it full, since this can reduce circulation of air, but do keep it well stocked.
After the meal, only use the sink for delicate dishes and tableware. For everything else, stick with the dishwasher. Running the faucet constantly while you or guests clean one dish at a time is wasteful. When a dishwasher is completely full and loaded, it can help you to use about 35 percent les water to clean the same number of dishes.
Finally, decorate your home for the holidays while also saving money. Holiday lights are the easiest and most beautiful way to deck your halls during the holidays. Unfortunately, regular lights often use up a lot of added energy. Opt for eco-friendly and wallet friendly, buy LED lights instead. These lights are energy efficient, plus they will not get hot, reducing the likelihood or a fire breaking out in your home.
Keeping these tips in mind during the holidays will ensure that you are able to reduce your spending while also reducing energy waste for a more efficient, affordable home. While routine air filter replacement can help improve your home's energy efficiency all year long these tips in the kitchen and on the Christmas tree, will help you to specifically cut back on waste and sending during the holidays.