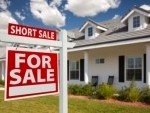 Pundits and experts have pegged 2013 as the year that the housing market will truly start to rebound, showing a significant increase in sales and perhaps even a bump in pricing. This is apparently thanks to a foreclosure market that is finally drying up, giving homeowners a chance to compete for sales. But don't start counting your chickens before they hatch; we're still in a recession. And if you've had your home on the market for a while with nary a nibble, you can no doubt attest to the continuing sorry state of our economy. Of course, the recession may not be totally to blame for your real estate woes. There could be a number of roadblocks that are preventing you from attracting buyers. Here are just a few that could be thwarting your efforts and how you can go about fixing them.
It won't pass inspection. Unless you're intent on selling your home "as is" (a prospect that won't appeal to very many buyers unless the price is right, which is to say bargain basement), you need to fix any violations uncovered by a home inspector. The reason is this: if your home doesn't pass inspection, no bank will loan a buyer the money to purchase it. Luckily, all you have to do is get your property up to code. The home inspector will give you a detailed list of what needs to be fixed (and possibly even recommend vendors for the job).
High price. You obviously want to get the best value from your home when it comes time to sell, but in a depressed market you're going to have to temper that urge with a healthy dose of reality. You're not going to get anywhere near the same value as you would have before the bubble burst, so put that thought out of your head. The best you can really hope for is the top end of your current market, but even that is a risky gamble. Of course, if you overestimate the interest in your home, you can always drop the price, but that, too, could be problematic (read on).

Price drops. In an unfortunate twist of fate, it turns out that dropping your price too much, too rapidly, or too frequently can also damage your chances to sell. Perhaps you're just desperate to unload your house before the bank forecloses, but when buyers see this kind of reduction they fear that something is terribly wrong with your property, and this can cause otherwise interested parties to shy away. So if you're going to reduce your price you need to be extremely careful with your strategy. If you can afford to delist your property and wait a year, it could make a big difference in perception.
Looming repairs. If your house is getting up there in years you could start to see issues with the plumbing, electrical, and other integral parts of your home. And if your windows, siding, roofing, and so on have never been replaced, prospective buyers are not only looking at your asking price; they're also calculating what they'll have to spend in the coming years to keep the house livable. While you can certainly head to the hardware store or roofing annex with an eye to addressing these issues, your better bet may be to save your time and money and offer some kind of allowance (i.e. lower your price) to offset these upcoming costs.
Cosmetic issues. Just because you love your powder-pink walls and movie theater carpeting doesn't mean everyone will. If your home shows too much of your personality it can severely limit the number of interested buyers. So clear the clutter (and excess furnishings), box up family photos, and install neutral paint and carpeting throughout. You're bound to drum up a lot more interest with a blank slate that allows buyers to visualize their own stuff in the home. And don't forget about curb appeal – first impressions are important.