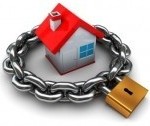 When it comes to protecting one's home and family, most people will go to any length to ensure safety and security, even if it means spending a boatload of money. Of course, this may not be necessary if you live in a relatively safe area to begin with, but even those who purchase property in a gated community may worry that their affluence will bring the unwanted attention of unsavory types looking to capitalize on criminal pursuits that include robbery or kidnapping. And while you can certainly shell out the dough to install surveillance cameras and hire a home security force, this really isn't necessary for the average household. In fact, there are plenty of desirable options for home security that you can implement on your own without spending major money in the process. Here are just a few you'll want to consider.
Solar powered flood lights. These lighting fixtures attach to the exterior of your home and soak up the energy of the sun throughout the day. At night, they will flare to life whenever motion is detected, flooding the area with light and hopefully scaring off any would-be intruders. The great thing is that they're not terribly pricy to begin with and they won't cost you any extra over the long haul because they pull their power from the sun. Of course, limited sunlight in your area could render them useless and sensitive motion detectors might pick up animal movements, but solar powered flood lights are certainly a simple and affordable option to explore.

Deadbolts. There's really no easier way to beef up your home security than by installing deadbolts in all of your doors. You can do it on your own to save some money if you have the proper tools on hand, or you can hire a locksmith to install them for you, which gives you the added advantage of having the same key for all of your locks. Unfortunately, this won't stop someone from breaking a window to get in, but it's a place to start.
Guard dog. Many families are keen on the idea of adding a pet to the household, so why not train one that can help to protect you in the event of a break-in? It takes a certain type of dog to effectively guard a household, so you might have to look for a pet with an aggressive disposition. However, if you're worried about having an animal in your home that could accidentally attack a family member, consider, as an alternative, a dog that barks at anything that moves. As early warning systems go, this is a pretty good one.
Magnetic alarms. You may appreciate the idea of installing a home security system that features an alarm, but balk at the notion of paying for monthly surveillance from an associated security firm. In this case, head to your local hardware store or go online to purchase magnetic alarms. They are relatively inexpensive (generally less than $10 each) and easy to install on windows and doors. Each time a door or window is opened, breaking the magnetic seal, an alarm will go off to let you know. In many cases you'll also have the option to set a "chime" (if the alarm is too loud) and you can turn off individual alarms boxes (in case you'd like to leave a window open).
Electric alarms. When you visit securitysystems.net, ADT, or Vivint (just to name a few) to see about installing an electric alarm system, you might be a bit put off by the price. However, this is one of the best ways to protect your home, your possessions, and your family, as well as give yourself peace of mind. In addition, most home insurers offer discounts for homeowners who employ this type of security, so you stand to offset your cost somewhat when you choose a monitored alarm setup.