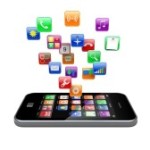 Thanks to modern technology, there are now more ways to spend your money than ever before. Internet shopping is a massive industry, with e-commerce sites driving record sales numbers during all of the major holidays. When you watch television shows online, you'll often be subject to interactive commercials, with one-click access to the purchase of the described item. Megastores like Wal-Mart and Costco are in towns great and small and regional retailers are still doing big business, regardless of the state of the economy. Thankfully, technology is also in place to help you save while you buy. If you have a Smartphone or tablet device, take advantage of these five shopping apps that will help you save money.
First off, check out the I Love Free Things app, which is a free thing itself. It doesn't get cheaper than free, and with this app you'll be able to track down any short term free deals in your area. You'll start an account and enter in your location information, and it will give you a daily breakdown of the free promotions and samples nearby. Use it on a Smartphone and it will tap into your GPS, allowing you to find free stuff when you're out and about in town as well.

It's quite tricky to determine if the deal you see advertised in a store is actually worth it. Sale items fly off the shelves, so you won't always be able to drive around checking prices in advance of the purchase. And who wants to take all that time anyway? Check out the RedLaser app, and your Smartphone will now do the price checking for you. It will scan the barcode of any item, and then hunt the internet to find prices you can compare. Best of all, it will also give you a list of stores around you that also have that item in stock. So if you absolutely must have that blender today, you'll head home having paid the lowest available price.
Many people save big bucks on their monthly shopping bills by using coupons. But clipping all of those circulars and trolling through the internet every day is awfully time consuming. Download the Coupon Sherpa app, and a lot of that work will be taken care of. You'll launch the app and tell it where you are. Coupon Sherpa will pull up all available coupons valid for that location. They can scan the bar code right off of your phone at the checkout counter, cutting out the need to carry all of those tiny slips of paper.
Some purchases are more significant, especially where travel is involved. No one likes to pay too much for airfare, and yet it can be almost impossible to figure out where to get the best deal. Check out the FareCompare When-to-Fly app and put this problem in the past. You'll tell the app what flight you're looking for, and then it will send you alerts every day telling you when fares go up or down. If you're not sure where you're going but you want to hit the road, tell it to zero in on your home airport, and the app will give you the cheapest flights leaving in the next few days.
If you're shopping on vacation it can be tempting to throw caution to the wind and just buy whatever iPhone 5 flip case that matches your wardrobe. But there's no reason to pay more than necessary just because you're away from home. Download the AAA Discount app, and you can access shopping deals at more than 100,000 retailers across North America. It's the perfect app for the frequent traveler, as you'll often be in stores you've never visited before and don't recognize.