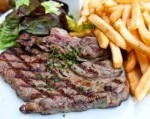 Men have it pretty easy when it comes to Valentine's Day. They pick up an adorable card, with kissing kids or snuggling dogs and cats on the outside, grab a bunch of roses and a box of chocolates and they're good to go. But women often want to show the special men in their lives that they care as well. It's a day to celebrate passion and love, and that is a two-way street. But you can't exactly buy your husband or boyfriend a package of tulips. It's going to take a bit more creativity to find the key to his heart. Luckily you've got a lot of tools on your side. Here are five things that men really want for Valentine's Day.
First off, know that you can't go wrong with a nice dinner out on the town. But perhaps skip the raw food and smoothie bar. Think about all of your man's favorite things or all of the things he wants to eat when you instead convince him to make healthier choices. These will be your options. Start off looking for a reservation at the best steakhouse in the area, which you will probably have to set up well in advance of Valentine's Day. But it doesn't necessarily have to be fancy. His favorite Mexican restaurant or sports bar could work as well. It might not be the most romantic option in your mind, but he will appreciate the work.

Also consider things that pamper your man that he wouldn't necessarily buy for himself. A Swedish massage is always hugely appreciated, although he might never ask for it. Yet he'll appreciate it far more than a manicure, a facial or any of the other less 'manly' grooming experiences. A haircut at a stylish salon or a professional shave is also a great gift idea.
Think about those special things he only buys on occasion but would love to have all the time. Most of those are probably sold through monthly membership clubs, which offer high quality at a discount. Consider signing him up for deliveries of free trade coffee, fresh mustard and sausage combinations, or even hot sauce brought together from the far corners of the globe. The best thing about this is that he'll love getting it on Valentine's Day, but every month he'll be surprised by another delivery, and will thank you all over again.
Sometimes the only thing men want for Valentine's Day is to be let off the hook. It's strange to think of this as a 'gift', but the pressure of this odd holiday has actually doomed some relationships in the past. So set simple requests for the gift giving, and a low dollar value. Suggest that you just exchange cards and have a nice evening in at home. You can rent a movie and enjoy each others company without the stress of topping last year's gift or shelling out hundreds for an expensive meal.
Men may not always admit it, but they love romance as much as the ladies do, especially if it ends with the lights turned low and the inhibitions left at the door. So take a special trip together to one of those stores that cater to adventurous couples. Perhaps you'll walk out with some game that's both hot and heavy and hilarious. Maybe you'll try some lingerie that pushes your boundaries. Or maybe you'll both get embarrassed and rush out. Regardless it will always be more appreciated than yet another set of personalized leather padfolios.