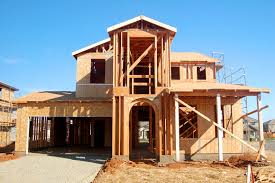 Building your own home is an exciting endeavor and it will require a great deal of planning and wise decision-making before you can get started.  Below are some things you will want to consider before going ahead with your big project.
How much house do you need?
Being that this is a blog geared towards making wise financial decisions, the very first thing that comes to mind when thinking about building a home is considering what size of home is actually needed.  These days it seems that everyone wants to have this gigantic home – but do you really need it?  And do you really want to clean it, or can you afford a housekeeper?

If you have a large family, you may need a larger home in order to be comfortable, but if there's just the two of you, you will really want to decide how much house is enough.  Remember, every extra square foot will cost you a significant amount of money.  Size is important, as this affects your utility costs, maintenance, heating costs, and more, for all of the years you live in your new home.
What features are most important to you?
When it comes to building your home, you will want to set up a budget.  You need to decide what you are willing to splurge on based on what is most important to you.  If you want an energy-efficient home so that you can save money over many years, then you will need to prepared to pay more up front to get the most energy efficient furnace, appliances, etc.
If you have always dreamed of having granite countertops, then you can make it work in your budget, but the key is not to skimp on anything relating to safety.  Be willing to splurge only on the things that you know you will appreciate over the years.  This will take some serious thought.  Don't rush into any decisions as this is your hard-earned money that you are going to be spending.  Have a list of things written down before you start so that you don't forget anything important, and also to prevent you from making any emotional or rash decisions once your home construction begins.
Get building insurance before you build.
Building insurance is a must when you are building your own home.  This type of insurance will protect you from any potential structural defects that may arise.  We all make mistakes, and you don't want to have to foot the bill for any costly errors made during the construction of your new home.  There are many areas of home construction where you can save some money, but make sure that you don't skimp when It comes to purchasing insurance.
Think of some projects you can do on your own.
If you've got some time and the willingness to learn, why not attempt some of the process yourself?  You may not be a contractor or comfortable with a hammer, but there are still many facets of building your home that you can do.  You will find helpful DIY videos online for practically anything you want to try and tackle.  Even doing just a few tasks on your own can result in large savings.
Find out about any potential rebates available to you.
Depending on where you live, you may be able to take advantage of housing rebates, tax credits, or both.  Do some research online and confirm your findings with your accountant or tax professional.  It's best to check into these before you start construction so that you can ensure that you are doing everything correctly in order to qualify.
There are many reasons why people want to build rather than buy a home.  No matter what your reasons, make sure you take these and other tips into consideration before you begin your big undertaking.