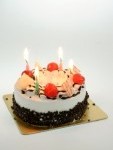 We all love to get something for nothing and there's no day of the year better suited to nabbing freebies than your birthday. You might be surprised to learn just how many businesses offer free fare to those celebrating the day they were born. But when you consider that going into any kind of shop will likely result in you spending money, especially if you have a birthday entourage with you, it make more sense. By offering you incentive to show up on your special day the business stands to make money they might otherwise have missed out on. Of course, this is still good news for you since you can definitely use the knowledge to your advantage when your birthday rolls around. Here are just a few of the dozens of types of giveaways you can get when celebrating the day of your birth.
Food, drinks, and dessert. There's simply no way to count the number of restaurants, bars, and other food service establishments that will give you free fare when you come in on your birthday. But here are a few you'll probably want to check out. You can start your day at Denny's with a Grand Slam breakfast and then head to Starbucks for a flavored coffee drink to top it off (provided you've registered your Starbucks card and added your date of birth). For lunch you can head to El Torito for a birthday entrée and then wind up the night with food and amusement at a Benihana's Teppan table (thanks to a $30 birthday gift certificate when you join the "Chef's Table") or Medieval Times, which provides a free feast and tournament to birthday boys and girls of all ages. And of course, numerous restaurants offer free dessert to patrons who come in on their birthday.

Cosmetics. Most beauty clubs are designed to help you earn points throughout the year that can result in free gifts, but Sephora also gives members a free birthday gift for stopping in during their birthday month while Benefit Cosmetics provides you with a free brow service at a Benefit Brow Bar location. Smashbox will also send you a free birthday gift set when you sign up for their club.
Clothing. In truth, most clothiers will offer you a discount on a birthday purchase rather than something for free, but if you're smart about your purchases you could virtually garner a freebie in the process. For example, Victoria's Secret will provide you with a $10 off coupon for any purchase of $10 or more on your birthday, which could net you some free underwear or beauty products. And stores like American Eagle, Anthropologie, Columbia, Hot Topic, and Old Navy also offer birthday discounts and gift cards to members.
A boat ride. If you have any interest in travel during your birthday, consider a trip to Catalina Island. When you sign up ahead of time on the Catalina Express website you'll catch a free ride on the ferry on your birthday (this offer has been extended for those who register before April 30, 2013).
A spa day. Not every spa gives away freebies for birthday visitors, but those who live in or visit the Los Angeles area can take advantage of free entrance to the Glen Ivy Spa in Corona when they join the online club. This will gain you access to mud baths, steam rooms, pools, and more. By poking around here and there on the internet you can find all kinds of free stuff on your birthday, but a relaxing day at the spa, free of charge, may just be one of the best offers out there.