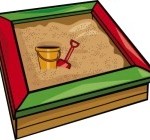 Kids are sources of endless energy, and they need to be able to play and exercise in their formative years. Many parents have neither the time nor the energy to make all the outdoor trips that would benefit their children, but you can make a great play environment for your children by bringing the world home. You can make your back yard more kid friendly and give them a place to play without spending a fortune on expensive equipment.
Make the Most of Your Space
How much free space do you have in your back yard? If you enjoy gardening or grilling outdoors, you'll have to figure out how to make the most of your space and accommodate a play area for the children. In general, play areas and sitting areas shouldn't overlap too much. Think about what you want in your yard, as well as what your kids want. A swing set can be great fun, but will also take up a lot of room in your yard. Think about how much space you have, and decide how to best utilize it.

Facilitate Fun Outdoor Sports
Children benefit greatly from engaging in sporting activities. They get exercise, learn the value of teamwork, and build character as they put their energy into a positive pursuit. Almost any back yard can accommodate some form of sporting exercise, and the equipment you'll need for this won't be too expensive. A movable basketball net can offer hours of fun. Games like croquet and horseshoes can be set up and taken down in between games. Think of fun outdoor games for your kids and make the back yard an outdoor gym.
Eliminate Potential Hazards
Safety should be at the top of your list of concerns when you start designing a kid-friendly back yard. Eliminate any potential safety hazards from the start to reduce the possibility of any injuries and make the design process go more smoothly. Any and all debris should be cleared out, as well as any equipment that may be occupying a play area. Simply clearing the space of potential hazards opens up room for the children to play. Sometimes they don't even need anything more than a safe place to run and play tag.
Build a Sandbox
You may not have a budget that allows for much playground equipment in your back yard, but a sandbox is something that you can easily build yourself with minimal materials. You'll need wood to construct a frame, sand to fill the box, and time to dedicate to digging and building. Aside from these minor expenses, nothing about the sandbox has to be expensive. The sandbox allows for more freedom of play than any other piece of playground equipment, making it popular with kids of all ages.
Take the Indoors Outside
Getting the kids outside can be a challenge, but you can design your kid-friendly yard to bring their favorite inside activities into the great outdoors. Set up a projection screen and make your yard an outdoor theater on warm summer nights. Instilling a love of outdoor entertainment at an early age will help keep the kids off the couch in the years to come. Make the yard an extension of your home to be as inviting as possible to the children and their friends.