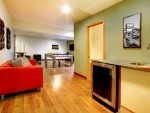 Moving can be a pretty intense experience, but there are few things that are more exciting than moving into a brand new place for the very first time. When you get to finally start building your very own home, all the potential can be a little bit overwhelming. Unfortunately, so can the costs. It's not cheap to come across all the things that you're going to need to properly furnish your home, and these days, most of us aren't exactly rolling around in extra money. If you're trying to furnish your home on a budget, you're definitely not alone. Given the behavior of the economy over the course of the last several years, a lot of individuals are still trying to live as frugally as possible. Thankfully, though, this means that everyone is trying harder and harder to come up with ways to do more while spending less. When it comes to furnishing your home, there are definitely a few solutions that can help you get what you need without breaking the bank. These tips will show you how to create your own proper living space without spending a small fortune in the process.
1. Utilize Craigslist. Craigslist might sound tried and true, but that's because it works. Just about everyone uses Craigslist, or has used it at some point in the past. A resource likes this (and there are plenty of others online, as well) can help you to easily find great deals on used furniture that are right in your area. If you live in a relatively crowded or metropolitan space, you might even be able to find things just around the corner from where you live. Often, things can be found for free on a site like Craigslist, as well. It all depends on how patient you are and how diligently you search through those listings.

2. Search for Liquidation Sales. Another great way to save money on home furniture and furnishings without leaving your immediate area is by searching for liquidation sales. You might even feel like it's worth it to travel outside of your city if you're able to find discounts that are steep enough. Either way, when a company goes out of business, you can save some serious money by snapping up their inventory before they actually close their doors for good.
3. Try Outlet Shopping. Most large retail companies have outlets where they sell their inventory at significantly discounted prices. If you look around, you might find that you live near some outlet stores that would be worth visiting in your quest to furnish your new living space. These types of stores are usually all located near each other, so you'll likely be able to knock down two birds with one stone.
4. Look for Online Deals and Discounts. There are all kinds of websites that can help you locate amazing deals and discounts, whether you're looking for furniture from Ikea or a website like gowfb.com. There are all kinds of services like Google Offers, as well, that will point you towards great deals and sales in your area.
5. Upcycle! If you haven't heard of upcycling, it's the practice of using old things to make new things. You might be able to turn some old luggage into a great coffee table, or create other decorative things from items that you don't use anymore. Search the Internet for two minutes and you're guaranteed to stumble across at least a hundred ways that you can upcycle various things that you might have lying around, or could easily pick up at a local garage sale.