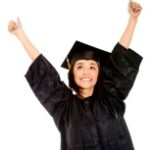 Most of us would agree with the fact that it is a smart decision to go to college and earn a degree; especially being that there are many studies to support the fact that the average college graduate earns about $20,000 per year more than someone in the workforce who only has a high school diploma.
That's not to say that college is not a huge financial investment. So much in fact, that an overwhelming majority of college graduates leave college with as much as $23,000 worth of student loan debt that must be paid back.  It doesn't have to be that way for everyone, though. Below, we've enclosed five tips on how you can graduate from college without owing a single dime.
Take some college courses in high school. When you go to college, you are paying for each class that you take. The good news is that a large majority of high schools offer advanced placement classes that are available to juniors and seniors. By taking a few of these qualifying classes, high school students can easily shave off a semester or two of college once they enroll. (Also check with your guidance counselor to see if there are actually college courses offered at your school as well.)

Go to community college first. There once was a bit of a stigma about community colleges in the sense that people assumed that students only went there if they couldn't get into a four-year college due to their grades. These days, there are all kinds of people from varying academic backgrounds who will spend their first couple of years at a community college. The main reason is because it's much cheaper and once they earn their associate's degree, they can then enroll into a four-year institution as a junior.
Apply for the honors program. If your grades were stellar in high school and you did really well on your SAT and/or ACT tests, then you definitely should look into applying for a college's honors program. In many cases, not only will they pay your tuition, but also your room and board for the entire time you're in school (so long as you keep your grades at their required level).
Speak with your employer. Whether you're planning to attend Northeastern University or a college that is closer to where you live, you're going to want to pinch as many pennies as you can, right? That's why it's a good idea to check with your employer to see if they have what is known as a tuition reimbursement program. Whether you worked for them part-time or full-time, many are willing to pay a few thousand dollars towards your education fees (especially if you've been employed by them for more than a year).
Apply for scholarships (and grants). One tip that ends up being ignored far more than it should be is applying for scholarships and grants. The great thing about this suggestion is that while there are many scholarships available to people with a good academic record, there are also ones available based on gender, race, religion and various personal interests. There are literally millions of dollars that are overlooked each year because people don't take the time to fill out the forms. Make sure you're not one of them. For more information on scholarships that you may be eligible for, visit CollegeScholarships.com and CollegeScholarships.org.