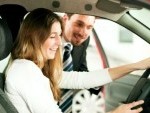 There are very few things that are as stressful and exciting all at the same time as buying a new car. It's a huge investment, and there are so many ways for it to go wrong. But it's something you've probably coveted for quite some time, and will now get to enjoy for years to come. Your car is your freedom, your ability to get to and from your job, your mobile entertainment and your status symbol. With everything rolled up in one you might be willing to pay any price for the vehicle that steals your heart. But wiser heads must prevail, as you'll want to save as much money as humanly possible during the purchase. Of course the dealership is looking to get whatever they can from you, so you'll have to come prepared if you don't want to get fleeced. As long as you remain calm and think logically you'll be fine. Here are five tips for negotiating the cost of a new car.
First off, do your research before you walk on the lot. Once you get to the dealership it's very tough to leave without a car. You'll be test driving the beauty you've had your eye on, and the salesperson is well trained to get you to pull the trigger that very day. So take the time to research the vehicle you'd like to buy well in advance. Understand how the various add-ons and special features shape the price. Also make sure you've looked at a number of different dealerships. You should know quite well what the car costs, and what deals you could get in other places in order to successfully negotiate.

You should also always have the wholesale vehicle price in mind before you head out to negotiate. The sticker price on the window of the vehicle is the MSRP, or the Manufacturer's Suggested Retail Price. Consider this the beginning of the negotiation, and absolutely never pay this price. That is because there is another price, the wholesale price that the dealership actually paid for the vehicle. The difference between this price and the MSRP is their profit, and your room to haggle.
Make sure they also give you a discount if you're willing to take a vehicle that's on the lot. They have to sell you a car, even if you want them to send a specific version from the factory. But the dealership has already paid for the vehicles they have on hand, and they cannot get new stock in until they move what they have. If you take a car that's already part of their stock you should expect a discount, especially if it doesn't have absolutely everything you would want.
You should also remember that the sticker price isn't the end of the negotiations. After you shake hands with the salesperson on the price of the vehicle there is more work to be done. First of all, there's the price for your trade-in. In most instances you are giving up a car and the price they are willing to give you should be as favorable as possible. Make sure you have detailed records for your old vehicle, and know the Kelley Blue Book value so they can't undersell you. The other negotiation is on the terms of the lease or purchase loan. The length of your agreement, the interest rate you'll be charged and the money you have to put down can all be adjusted. And if the dealership isn't willing to work with you on this area you can go directly to your bank, or give the financing company of another brand a try.
Finally, see what extras they'd be willing to throw in. This is another way to get more value for your dollar. Perhaps they'll have Timbren suspension kits professionally installed, or provide you with an extended warranty, or cut the charge for a premium paint job. You never know what you could get unless you ask, so don't hesitate to push.