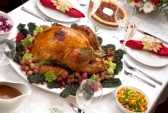 Unless your family has some kind of policy about rotating the location of holiday gatherings each year, you could find yourself hosting annually, especially if you're (A) a good cook, (B) you have the biggest house, or (C) you agree to it. And this not only requires a lot of work on your part to get your home in ship shape and produce an appealing meal for all of your loved ones, but it could also have a significant impact on your budget. This can cause no shortage of problems during the stressful holiday season when spending is high anyway. So even if you enjoy putting together the holiday meal and playing host annually, you may be looking for a few good ways to save some money and stick to your budget this year. Here are some tips that should help you to prepare your huge holiday feast without breaking the bank.
Delegate. The absolute easiest way to save money when hosting a huge family gathering is to turn it into a potluck. You should plan to make the main dish, but you might want to instruct your brother to bring the mashed potatoes, your sister to bring her green bean casserole, and your mom and dad to make pies. It helps if different people have signature dishes that they love to share, so you might want to ask if you don't know. Keep in mind that most people are willing to pitch in if you don't make it too hard for them, so give them some latitude to bring what they want instead of dictating the menu. Those that aren't particularly keen on cooking can always bring drinks or pick up an appetizer platter at the market, just for example. Overall, you should end up saving a lot of money by this method.

Split costs. If you always end up footing the bill for dinner, ask those who attend annually to pitch in on the costs. Although the holidays are a season of giving, you can't be expected to take on the expense of a major meal every year. So if your family and friends are unwilling to contribute by cooking some of the meal, ask them to split the bill with you instead. Likely they'd rather make a side dish. As an alternative you could always suggest that someone else play host.
Start early. Planning is your best bet when it comes to creating meals that cost you less, and this is especially important when putting together a large meal. However, it will take some amount of preparation. For example, you'll need to first plan a menu and then clip coupons and wait for sales to get the best prices on items for your meal. You can also buy bulk at stores like Costco for items you'll need a lot of, such as potatoes or meat, depending on the size of your group. This pre-planning can save you a lot.
Skip the liquor. One of the most expensive parts of many holiday meals revolves around the beverages, including beer, wine, and other spirits. So if you're looking to shave a significant chunk of change off the cost of the meal, simply skip the liquor. As a bonus, you can avoid watching certain family members devolve as they seem to do every year after a few too many glasses of vino.
Substitute. Wiener schnitzel may be a holiday tradition in your family, but veal can be very expensive when you're feeding a large group. Instead, pop over to a site like RecipeChart.com to find some alternatives. For example, you could make pork schnitzel at less cost, or even opt for a turkey or ham to save money on the main dish. Instead of making brandied cranberries, cook them in water and orange juice. There are all kinds of substitutions that will save you money and still deliver a delicious holiday feast for your family and friends.