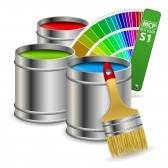 Whether you've finally decided on an accent wall in the living room, you want to repaint your interior for an updated look that features new color trends, or it's time to address the peeling paint on your home's exterior, you are probably aware of the fact that such projects do not come without an attendant price tag. Certainly painting is more affordable than remodeling or renovating, but that doesn't necessarily mean that it's cheap, especially if you plan on hiring professionals to get the job done for you. However, there are plenty of ways to save where your painting expenses are concerned, and with a little leg work and some common sense on your side you can make the right decision for your home and your budget. Here are just a few tips that will help you to shave dollars off the cost of your house painting project.
DIY. You might not be keen to get up on a ladder and paint the entire exterior of your home, but there are a lot of painting projects you can tackle in order to save some money on labor. For an outside project, for example, you can at least paint the window frames, including storm windows and screens (if applicable). And you can do some prep by masking off windows and doors with tape and plastic so that the painters can get right to work with their brushes, rollers, and airbrushing tools. As for interior jobs, there's just no reason the average homeowner can't tackle these instead of shelling out for a professional paint crew.

Calculate paint needs. Once you've taken measurements, simply go online to find a paint calculator that can tell you how much you'll need for coverage. Glidden, Lowe's, Benjamin Moore, and many other websites offer this feature. And there are even tools that will calculate exterior paint for your project, helping you to avoid overspending on a lot of paint you won't need, or worse, finding out halfway through that you've underestimated.
2-in-1 products. You might balk at the price difference between a regular can of paint and one that includes the primer. But if you have to buy paint and primer separately, you'll end up paying more in the long run, and chances are you'll have to do more coats, wasting time, as well.
Paint scheme. The more colors you've got going on the more your project is going to cost you. This isn't to say that you have to paint every room in your home the same color, but opting for a cohesive color scheme that includes just a couple of colors will not only tie your interior together visually, but it could also help you to save on the cost of purchasing paint. And if you want a room to pop, think about adding an accent wall or even wallpaper on just one wall to get the style you crave without buying special products for every surface in every room.
Get it right the first time. The wonderful thing about trying out painting ideas for your home is that if you hate them, you can always paint over your mistakes. Unfortunately, this isn't the most cost-effective option. You're much better off getting it right the first time. So before you paint, consider trying out interior decorating software (like Mark on Call for your mobile devices) that lets you see what your plans will look like completed, color and all.