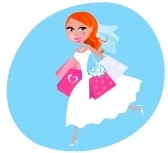 Shopping for a wedding dress can be a harrowing process, what with trying on dozens of gowns to find the right one and then attempting to balance a budget with the prospect of purchasing the dress of your dreams. While you're probably keen to save money wherever you can, you certainly don't want to sacrifice style in the process. So here are just a few tips that should help you to meet all of your goals (fashionable and financial) when you shop for your wedding dress.
Shop trunk shows early. In most cases, trunk shows do not offer discount dresses, so you might wonder why you'd want to go. The main reason is to try on designer styles that local stores may not otherwise have in stock. Even if you can't currently afford any of the dresses you slip into, going to these shows early in the planning process can help you out in a couple of ways. If you take photos and note the styles you like, you may be able to find them later on for less (once they're out of season). Or you could look for something similar that costs less once you know what is flattering on you and which styles, cuts, or embellishments you prefer. And if you find the dress of your dreams, you can make a down payment and have plenty of time to pay it off before your big day. As a bonus, you'll get a free consultation with representatives of the designer, and these professionals should be able to find the best look for you in their collection.
Shop online. If you have your heart set on a designer dress, consider that you may be able to find one online for less. Not only are there hundreds of discount dress websites to help you here, but you can also keep an eye on eBay or even Craigslist when you're searching for a specific gown. Although you may end up with a second-hand dress, chances are it's only been worn once.

Find something similar. Not every bride can afford a designer dream dress on her wedding day, but once you've found "the" dress, consider that you can likely find something similar for less. Armed with photos of the gown you covet, you can head to discount bridal shops like David's in search of something that incorporates the main elements you're seeking (a mermaid silhouette, a beaded bodice, or a tufted, taffeta skirt, just for example). And since you're going to have it altered to fit you perfectly anyway, there's no reason you shouldn't spend a few extra bucks to have it tailored to match your favorite photos. You'll still end up saving over the designer label price tag.
Have a gown custom made. Believe it or not, you can have an exact replica of any dress made, and probably for less than the designer price. You'll have to find a good seamstress in your area to start with, and then you'll need her to provide you with a list of materials so you can get them at a nearby fabric district (or order them online) to cut expense. From there she'll create the garment you crave based on the pictures you provide. It won't be cheap, especially if there's a lot of detail work to be done, but you'll still save over bridal boutiques.
Set up a dress fund. Many brides are afraid to ask for money, but these days wedding funds are all the rage. So instead of having the ladies in your life buy you a boatload of slinky lingerie that you'll probably never wear, ask them to contribute to your dress fund instead of bringing gifts to the bridal shower. This will get you one step closer to that Vera Wang or Winnie Couture gown you've set your sights on.