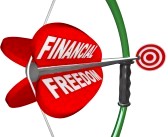 With the economy the way it is and the fiscal future of the world precariously balancing between security and certain doom, more and more people are finding it important to not only set financial goals, but also to meet them. Some of the greatest financial advisors will tell you that you can't just hide your money under a mattress to save enough money to live comfortably. Becoming financially savvy – whether you want to eventually put down money on a house, start a business, or send your kids to college – takes a full lifestyle overhaul.
Here are 5 tips to help you reach your financial goals:
Let the whole wide world know. Okay, maybe not the entire world, but at least your friends and family. You are much more likely to save money if people know you are trying to save money. The psychology is simple – you don't want to face the shame once you go broke, so you will do everything you can to meet your financial goals. Not only that, but if you are deciding to buy a car or house or any other big item, your friends and family can step in with valuable financial advice.

Keep your goals genuine. This can be the hardest part for most people. Just like you don't want to shame yourself in front of your friends and family, you also don't want to let yourself down either. For instance, if you know you might not be able to keep a certain budget for something in your life, like going out to eat or visiting the salon, you shouldn't beat yourself up about it. The only thing you can do is try. It is much easier to meet your goals when the pressure is off.
Use all the available tools. There are a number of budgeting tools that you can use to limit your spending and to meet certain financial goals. It can be as simple as a notebook that you keep in your purse or jacket pocket, or it could be online budgeting software where you can enter in expenses and then see how well you fare at the end of the month. There are also many apps you can get for your smartphone, which is great for when you are on the go.
Become a savvy shopper. One of the best ways to reach your financial goals is to save everywhere you can. There is a literal bevvy of coupons and bargains available – if you only look hard enough to find them. For instance, greatdeals.com has some incredible bargains on travel, eating out and even shopping. How would you like to save 40% on a trip to Hawaii?
Give yourself rewards. Cutting down on your expenses in order to meet financial goals can be no fun if you don't positively reward yourself once in a while. If you have the money saved up, why not take yourself out to eat or go on a fun weekend getaway? Reaching your financial goals should be fun too.