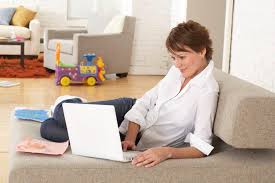 There are a lot of reasons to choose a home-based job. While it seems to be much easier than an office job, home employment has its own challenges and requirements. There are many opportunities for freelancers and remote workers. It is only important to know where to find a good job to do online and then make sure it is secure.

Here are some tips on how to research online jobs and get a good income:
Show Your Interest
A lot of your acquaintances and friends probably need the service you provide, but they do not know that you can provide it. There are also companies that are actively seeking workers who can work remotely. Let people know that you are open for offers and have time for extra work. The easiest way is to show this through your social media profiles. A lot of recruiters search employees on LinkedIn. If you are struggling between working vs stay at home mom status, this can be your best choice. Try to make your account attractive for potential employers.
Talk to Your Boss
Some workers love their job, but the commute to the office is too long or they have children to look after. The employers are not interested in losing a good worker. Before changing jobs, try to arrange to work from home with your boss. If it is convenient for you, it is also possible to work at the office a certain number of hours. The rest of the time you will work remotely. There are a lot of options. Just decide what work conditions are the best for you and discuss them with your boss.
Be Prepared
Doing jobs online and remotely is possible in almost every field. It still means that you have to be qualified and have the necessary skills. A home employee also needs to a have a workplace and all the equipment. Before searching for a job, make sure you have everything you need for working from home. That might be a powerful computer, a fast Internet connection, a comfortable chair, software, printer, headphones etc. The preparation takes some time and the employers usually want you to get to work immediately. It is better to take care of this in advance.
Online Job Interview
The interview for an online job is likely to have the same procedure as the interview in person. It is not easier in most cases and a candidate should get ready. The most common types of are phone calls, video calls, and Skype calls. Make sure you have all the necessary equipment like the headphones and a webcam. Consider practicing the interview with your friend to get used to this format or record your speech. Think about the background, lighting and find a quiet place without any distractions. If the call is made by Skype, choose a professional username in order to provide a good first impression.
Be Aware of Scammers
The number of scammers in home employment is shocking, but there are ways to avoid them. Check out the company before starting the work. Ask the employer about necessary equipment and how exactly you will get paid. If there is some kind of fee, tutorials or kits you need to pay for, ignore the offer. You should not pay anything to start working. The promises to get rich very fast are also scam schemes that will not let you earn any money. Be aware of the most popular scam jobs like stuffing envelopes and stay away from them.