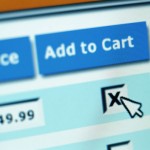 A few decades ago, no one would have believed that there would one day be a way to comparison shop from the comfort of your own home, receive instant confirmation of purchases, and have the goods delivered to your front door as quickly as the next day. Heck, there's even one-click ordering to make the process totally foolproof and eminently efficient. But there are potential drawbacks to shopping online, as well, and the main one is security. Luckily, there are ways to protect your private information when you shop online.
Look for the lock. Any time you decide to make a purchase online, you need to make sure that the website you're ordering from is protecting your personal information. When you see the padlock icon situated next to the address bar at the top of your screen, it means that the data you're transmitting is protected by encryption software, so anyone trying to steal it will get nothing but gobbledygook. That said, you should also take steps to protect yourself, such as setting up an account with a password, opting for 2-step verification whenever it is offered, and selecting the option whereby your payment information is NOT saved by the online retailer.

Shop trusted sites. When you shop with big-name sites like Amazon or Etsy, or you use the virtual counterparts of real-world stores like Macy's, just for example, you do so with the reasonable expectation that your personal data will be protected. After all, these brands don't want their image tarnished by identity theft. Of course, you might not be so cavalier about handing over sensitive information to unknown e-tailers that don't have a proven track record or an established reputation for security.
Sign up for PayPal. If you're looking for an extra layer of protection when it comes to your sensitive, personal data, PayPal could erect another barrier between you and the unscrupulous parties perpetrating identity theft. Whether you use credit cards or bank balances to fund your PayPal account, they will transmit funds on your behalf so that you never have to give your card numbers to ecommerce sites.
Beware of unnecessary data fields. When you shop online, it's common to give your name, your billing and shipping addresses (if different), a working phone number, your email address (for confirmation), and of course, a credit card (or other form of payment). What you should never give out is your social security number. There's absolutely no reason why an online retailer would need this to finalize your transaction. And frankly, extras like your date of birth aren't necessary either, unless you're looking to take advantage of deals offered through a birthday club.
Beef up personal protection. Whether you're shopping Amazon or Buy Sell Make Offer, Inc., you need to do your part to protect yourself. This means making sure that you have an adequate firewall in place, that your WiFi is password protected, and that your antivirus/anti-spyware software is up-to-date. Online shopping is a convenient, efficient, and often affordable way to get all the gear you need. But protection should be your number one goal so as to avoid the hassle and heartache of identity theft.