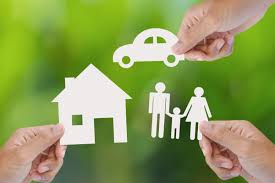 Do you need insurance? Most people do because in time of emergency, an insurance policy may prove useful. Insurance policies are of different types. You need to know all those types so you could decide which of them you need.
In this article, I discuss various insurance types so it becomes easy for you to decide whether you need them.
Life Insurance
Life insurance is the most important of all insurance types out there. A life insurance policy covers you and family members. A mistake made by many is they go for a whole life insurance. They shouldn't. Going with a term life insurance policy makes more sense because it hardly involves hidden fees, and it is super affordable.
Besides, most people save for the life after retirement. If it's a term life insurance, then you won't need it after you receive your retirement savings. The problem is less than 40% adults in the United States don't have life insurance. Since they are not covered, in the case of their untimely death, their family will find it difficult to even manage burial expenses.

Health Insurance
After life insurance, it's health insurance that's essential. Life can be hard at times. Imagine you fall sick and get hospitalized. How will you manage your hospital expenses? In the United States, the cost of health insurance is rising faster than inflation, which means a hospital stay can eat away your hard-earned savings. If you have an ailment, or your health is deteriorating, then a health insurance is a must for you.
Like life insurance, health insurance policies are long term and short term. The advantage of buying short term policies include being able to buy them whenever you wish to, the premiums are lower than the majority of medical insurance plans, offered by almost all of the hospitals, and plans are open for exchange. There are disadvantages too. Short term health insurance policies don't allow the consumer have pre-existing conditions, and don't cover benefits.
Auto Insurance
Nearly every one of us have cars. But many of us drive without having their vehicles insured. That's a grave mistake because accident rates, especially highway accident rates due to collision with large trailer trucks have been steadily going up. If an accident wrecks your car, you may have to pay as much as $4000 to fix it.
It's difficult to produce such an enormous amount of cash out of pocket. Auto insurance saves your from such worries pay the money in case your car meets an accident and needs repair. There's no dearth of companies, which offer auto insurance policies. When selecting one, check the liability coverage. If the coverage is adequate, then go for it.
A policy with adequate coverage not only pays for the car when it is damaged due to collision, but also if it undergoes some mechanical glitch and needs repair. If the policy covers your medical bills in case your car meets an accident, then that's an added bonus. If you drop your collision coverage (many do), then have a lump sum amount of money ready.
Disability Insurance
Nobody knows what future has in its reserve for him. Old age, terminal illness or a deadly accident can leave a person incapacitated. Without disability insurance, he couldn't manage the cost. Luckily for customers, most companies offer excellent rates on disability insurance because there are not many buyers.
When shopping for it, check what percentage of your current income the policy claims to cover. If you are disabled, then you wouldn't be able to continue with your job. In that case, almost 65%-70% of your present income needs to be paid by the insurance. Make sure you are buying a long-term disability insurance.
Home Insurance
Home insurance policies come with a high premium rate. If you think it's unjustified, then think again. What's the price of your home? Your coverage limit is sizable percentage of that price, and hence, the premium rates have to be high.
When you shop for a suitable home insurance policy, you need to know the value of your home, how much repair work is needed, apprehend all the risk factors that come with the premiums, what the coverage excludes other than the incidents, which are regarded as hands of god.
Understand Your Priorities
The five types of insurances discussed here are all important for you. But they are not equally important. If you have a serious disease like HIV or AIDS, then health and life insurance are more important than home or auto insurance. On the other hand, if you are healthy and live in a rented apartment, a home insurance is the need of the hour. So understand your priority before selecting an type of insurance.
About The Author
 Peter Christopher is a personal finance blogger and loves to educate people on personal finance. You can find articles on personal finance, real estate, banking, insurance, tax, stock market and more at his personal finance blog.