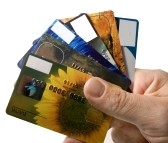 Although there are a lot of us who rely on our credit cards, there are more and more published articles which indicate that we probably should be taking steps to prevent ourselves from being quite so independent. For example, according to several different reports, the average credit card debt for an individual is about $15,000. That's the price of a nice automobile.
So, what can you do to find the "happy medium" between using your cards when you need them, but not going into debt in the process? That's a really good question and it starts with not paying lots of money in credit card charges and fees. That's why we're actually going to provide you with five ways that you can avoid high credit card charges and fees below:
Select the kind of cards that don't come with annual charges and fees. One of the best ways to avoid paying annual charges and fees is to choose to kind of credit cards that don't come with any. That's why, before you select one, you should do thorough research on which cards have annual charges and which do not. One website that has a list of ones that don't is Credit. Just go to the site and put "no annual fee credit cards" in the search field.

Read the fine print and look for what it says about the universal default clause. Speaking of doing research, something else that you should do is read the fine print about if the card has what is known as a universal default clause. Cards that have this kind of clause means that the lender has the right to raise the interest rate if you happen to be late in paying your credit card bills. And if your interest rate is high, this means that your finance charges will be too.
Pay your card in full each month so that you can avoid finance charges. Just about any financial expert is going to tell you that if you do decide to use credit cards, it's best that you pay what you owe, in full, each month vs. merely paying the monthly account that is printed on your bills. However, if you can only afford to make minimum monthly payments and for some reason you happen to make a late one, check to see if there is a grace period. Most cards offer 25-30 days. That can help you to avoid finance charges.
Also pay your card on time so that you don't incur late fees. If you're someone who happens to have too many credit cards , then you might find that you're incurring credit card charges simply because you are having a hard time paying them all on time. When this happens, not only can it lead to finance charges but late fees too and it doesn't take long before those fees can really start to pile up. One way to prevent late fees is to see if you can pay your balance online so that the payment will be immediately posted. If you choose to mail them in instead, remember that you need to give 7-10 business days for your payment to arrive.
Check your credit reports a couple of times per year. There are a lot of people who have credit issues due to credit cards. However, the irony is that there are also many credit card companies that check credit reports and if they see a poor rating they will, in turn, increase your finance charge percentage. Therefore, definitely make sure to check your credit reports a couple of times per year to see if this has been taking place. For information on how to obtain your credit report, visit ConsumerFinances.org and put "get a copy of my credit report" in the search field.