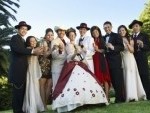 Your wedding day should be a beautiful and memorable occasion, but it shouldn't be a budget breaker. Couples all over the world spend tons of money on their weddings, and many have a hard time recovering from the financial hit. Luckily, there are many great ways you can cut costs on your wedding day without making the event any less special. In fact, these great expense reducing wedding day ideas can make your marriage even more memorable.
Host Your Ceremony Outdoors
One of the biggest wedding day expenses that couples have to finance is the venue. Finding the perfect place to host your wedding ceremony is never easy, and paying for it can be even more difficult. Consider hosting your ceremony outdoors to reduce this expense. There are plenty of great places to hold an outdoor ceremony, and they're almost always going to be cheaper than indoor spaces. Best of all, an outdoor ceremony creates unforgettable scenery that will make your wedding as beautiful as it can be.

Skip the Fancy Stationery
Wedding days are fraught with frivolous expenses. Some couples spend big money on stationery for things like invitations, table numbers, and name cards, but you don't necessarily need to break your budget on these expenses. Play the part of calligrapher and start creating things like these on your own. You'll be able to save lots of money, and your wedding day will have a unique, personalized, home grown feel to it. It won't take as long as you think, and it can actually be a fun project.
Avoid Marrying on Saturday
Saturday is the most popular day of the week for weddings, and for that reason it is also the most expensive day. If you try to get married on a Saturday, you can expect to fight for your venues and reservations, and pay through the nose for them at the same time. Instead, try planning your ceremony for a Friday or Sunday. Your guests should still be able to make the occasion, and you'll be able to get everything cheaper. Avoiding Saturday is one of the best ways to cut expenses on your wedding day.
Choose Larger Tables
When it comes time to plan your reception, there are going to be many options to consider. One thing that you should keep in mind is that larger tables will save you money. Whether you're working with catering services or furnishing your own reception, larger tables are the way to go because you can get by with less of everything: fewer tables, fewer linens, fewer centerpieces, and so on. Opt for the big tables to help keep your wedding from becoming too expensive.
Choose Non-Traditional Dresses
Wedding day clothes are very important to many couples, but if you're willing to go non-traditional you can save a lot of money. An alternative bridal gown and unique vintage bridesmaid dresses can give your wedding a beautiful and memorable look without the expense. You don't need opulent gowns, coordinated dresses and matching tuxedos to have a beautiful wedding. Break away from tradition to make your wedding special and help save money for your other expenses.