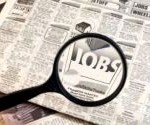 The main goal of attending college for most students is to enhance job prospects after school, as well as opportunities to find higher-paying jobs. But with the economy in a recession, it seems like no amount of schooling may be enough to ensure job placement. That said, there are definitely steps that students can take to give themselves the best possible chance at nabbing a job (and not the kind where they have to wear a paper hat) following graduation. Here are just a few considerations that should help the average student clear a path for professional success.
Internships. There is practically no better way to improve your appeal to prospective employers than with the experience that comes from an internship. While no company will promise to hire interns when their unpaid tenure is complete, most businesses use internships as a way to find bright new minds in the field, so there's always the possibility of a job offer. At the very least you'll be able to add some experience to your résumé, as well as a reference if you leave on good terms.

Job fairs. Many college campuses hold regular career fairs as a way to connect students with potential employers. While you might not be looking for a job just at the moment, it couldn't hurt to shake some hands and make a good impression with companies that could provide you with work after graduation. And don't hesitate to attend multiple job fairs and talk to the same people – networking with industry contacts is a great way to gain an edge over competitors in the job market.
Recognition. Companies may be keener to hire a student that has already gained recognition in the field, so getting your work printed in trade publications or starting community projects that gain public attention could only help to flesh out your résumé and boost your chances for hire.
Major study. If you want to pursue a degree in archaeology because you harbor dreams of becoming the next Indiana Jones, or you're thinking of majoring in botany because you believe that there's a plant out there that can cure cancer, nobody is going to stop you. But you should be aware that certain majors have a better chance of netting you a job than others (and the two listed happen to be amongst the highest in terms of unemployment). What you choose to study could definitely impact your prospect for gainful employment.
School of choice. The average MBA or MIS degree guide will give you scads of schools to choose from, all offering virtually the same classes. So why would you pick a more expensive institution? Well, let's just say that a rose by any other name may smell as sweet, but if you offer up something called skunk cabbage, nobody's likely to take a whiff. The idea that the name on your school's letterhead could get you a foot in the door is not new. But when you consider that many pricy universities come with highly developed networks for job placement, you might just want to consider that sometimes you have to spend money to make money.