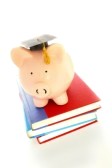 Debt isn't fun for anyone, especially for college students. The last thing you want to worry about when you graduate from college – on top of worrying about securing a job – is how to pay back your staggering student loans. It should be comforting to know that there is a plethora of other college grads that all feel the same thing – the crushing realization that your debts are about to swallow you whole. However, there are a number of ways to alleviate this feeling and it starts with becoming proactive – not reactive. At the end of the day, with a little resourcefulness and creativity, anyone can create a successful strategy to reduce their debt. Here are five ways to prevent being overwhelmed with debt after college.

Organize your financial life. Your first step in preventing feeling overwhelmed with debt after college is to organize all your finances. Your finances can become quite entangled if you don't maintain proper ledgers and balanced books of all your spending. Once you have a system for organizing all your finances, getting a firm grip on your college loans will be a lot easier. You may find a way to pay your student debts back in a much more efficient manner.
Create a budget. A budget will be vital if you want to reduce the stress of having to pay back student debts. Without a budget, you will keep finding yourself at the end of the money with an inability to pay back your loan. If you have a payment plan, you may have interest building up, which is why you really want to devise a budget. It may be hard to cut out a few things in your life, but it will feel much better when you finally pay off your loans.
Devise a payment plan. Creating a payment plan to pay off your loans can make it a lot easier to not let yourself get stressed out about your debts. For instance, if you have $30 thousand in debts, you may want to set up a payment plan to pay $200 of that money back every month. It may take a while to pay off the debt in full, but at least it won't be mounting and causing your stress. You could even set it up where the money is deducted automatically.
Don't go in debt in the first place. One of the best ways to prevent being overwhelmed with debt is to utilize financial aid, rather than taking out a loan. There are a wide host of grants and scholarships available, and a winning essay can earn your thousands of dollars in savings. You could even ask your family for a no-interest loan. Another option is to visit http://ww.onlinemba.neu.edu and take online courses for your degree, which can be drastically less expensive than going to an in classroom program.
Consolidate your loans. When it comes down to it, you could be consolidating all your loans, which means that you can cut them down into one lump payment. Oftentimes, when you consolidate, your loans become less of a burden and much easier to pay off.