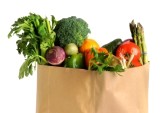 Eating can comprise a major expense when it comes to your monthly bills, especially if you like to dine out frequently. But it's also an area in which you stand to save a ton of money. With a few easy tips and tricks under your belt you can cut back on the amount you spend on food and groceries overall while still enjoying the quality of food you crave, not to mention the social aspect that often accompanies eating. Here are just a few ways to stay healthy and satisfied even as you save on food.
DVR cooking shows. It can be hard to cut back on dining out, but if you're looking to save some money and still get the incredible recipes you can find at restaurants, think about setting up your DVR to record cooking shows. You can get professional cooking tutorials and try amazing new recipes in the process.
Cook what you've got. Many people make the mistake of planning out weekly menus based on what they think they might want instead of what they already have. While you can certainly stock up on items for your go-to weekly meals, you should also use websites that allow you to enter a few ingredients so that they can populate recipes for you that include those items. This will help you to cut down significantly on food waste, potentially reducing your grocery bill, to boot.

Prioritize spending. If you're working on a limited food budget, it's imperative that you determine where you want to splurge and where it's better to save. For example, you probably think it's important to spend more on fresh fruits and veggies, but you might change your mind if you knew that frozen produce retains just as many vitamins and nutrients at less cost. And there's really no reason to spend twice as much for name brands when generics offer you ostensibly the same thing. As for meats, you should definitely consider buying better cuts since it could mean higher quality, but keep in mind you could still save by buying in bulk or asking at the meat counter when new shipments come in (since the meat in stock is normally marked down the day before).
Host potlucks. It can be difficult for some people to cut back on dining out simply because they are looking for more than a meal: they also want the social component. Luckily, there are plenty of ways to get social with food sans the expense of eating out. One great option is to start hosting a weekly potluck with family and friends. If you make the entree you can ask guests to bring side dishes, desserts, drinks, and more. Or you can rotate which household hosts from week to week. You'll get your quota of socializing, everyone can save some money, and you may even end up with leftovers.
Join a coupon club. Not everyone has time for the hours that go into extreme couponing, but if you're willing to clip a few grocery coupons or visit manufacturer websites, you should think about joining (or starting) a coupon club. If you get a like-minded group of people together you can hand out assignments (like picking up certain circulars or checking certain websites) so that everyone can do less work and get more coupons through sharing.