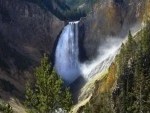 During our travels this summer, my husband and I stayed at various national parks throughout the U.S.  We have also stayed at many national parks in Canada over the past couple of years.  We have found that you don't have to spend a lot of money while staying within these parks.  Here are a few ways we have saved money:
1. Some national parks provide free shuttle bus service.  We took advantage of this service whenever possible.  It was much easier to see what the park had to offer without having to drive around in our car, and it was cheaper because we didn't have to pay for the gas.
2. If you are able to time it right, you can sometimes get into national parks for free.  During our most recent vacation, one of the parks we stayed at was promoting their park by allowing free entrance for one weekend.  We just happened to be there at the right time.  If you are thinking of taking a vacation at a nearby national park, check out the park website to see if any free entrance weekends are being offered and book your vacation around that time.  The neat thing is that entrance fees are usually very reasonable and are often valid for 7 days.  In all the U.S. national parks we visited the entrance fee was just $25.

3. Prepare ahead of time and buy your groceries prior to entering the park.  Otherwise you will likely end up paying more than a fair price for your groceries at the park convenience stores.  If you do end up having to buy some food at the park stores, make your selections carefully.  You don't want to end up buying your food for twice or three times the regular price, and from our experience, they try to get you to spend ridiculous amounts of money for even the most basic of necessities.  Bring along your own bug spray and sunscreen as well, as these are also often overpriced.
4. Select your campsite based on what you will need to use during your stay.  For instance, if you are tenting, there's no need to pay extra fees for electricity hook ups.  Be prepared to have to pay for showers.  Although many campsites don't provide showers at all, the ones that do you often have to pay for.  The prices are reasonable, and believe me, you will be very thankful for any opportunity to shower.  At least I was!
5. Take advantage of the hiking trails and overlooks and spend your days enjoying nature rather than spending tons of money on other entertainment.  Most national parks also have museums with free admission and visitor centers providing short video clips about the history of the park, etc.  Also, there are often Ranger-led activities available that are free and informative.   Many of them would also be interesting for kids.
There are lots of ways to save money during your stay in a national park this summer.  Enjoy spending time with your family and friends without breaking your vacation budget.