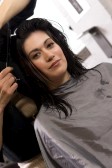 Keeping your hair both maintained and looking good can be a serious investment. Getting your hair professionally cut, shaped, blow-dried, dyed, highlighted and permed at a hair salon can be incredibly expensive. Some people who have their hair dyed professionally can end up spending hundreds of dollars every month. This can seriously start to add up, especially if you have to make monthly trips to your stylist. You might want the newest celebrity hair-do, but what most people don't realize is that these celebs have an around the clock team, which most of us don't have the resources for.
Here are 5 ways to save money at the hair salon:
Take care of your hair. One of the best ways to make a haircut last is to make sure your hair is healthy and well conditioned. Most people don't take the time to condition their hair a few days a week after a visit to a professional stylist, which can lead to many more visits to the hair salon. It is recommended that after you go to the stylist that you make sure to pick up a top of the line conditioner, which can maintain the health and styling of your hair for much longer.
Get a cut that works for your specific hair type. Most people rip out pages from the latest celebrity gossip magazine hoping to recreate a hairstyle they like on one of their favorite actresses or recording artists. However, everyone's hair is vastly different and it can be expensive to recreate someone else's hairstyle, because of all the maintenance that is involved. It is best to find the right cut and style that works for your particular hair type.

Don't get a lot of expensive treatments that can leave your hair frizzled and dried out. This is a sure fire way to make continuous, monthly trips to the hair salon to have your hairstyle maintained, which can really add up. Whether this is with a perm or highlights, it is recommended to keep your visit to the hair salon as infrequent as possible. The less commitment you have to your hair salon, the more money you will save.
Another great way to save money is to do your own treatments. You can do almost everything a hair salon can do at home, like highlights, trims, blow dries and even removal of those of those pesky hairs above your lip. There are plenty of amazing epilators on the market that can keep those unwanted hairs off your face Why pay a hair salon an arm and a leg to remove them for you? Go the http://www.epilatorcentral.com/ to find an epilator that works for you.
Lastly, get a blowout and not a cut. Blowouts can cost significantly less than a professional salon haircut, but can still give you that fresh, new look you are after. You can find salons in most cities that specialize in blowouts, which can also be a great way to maintain your expensive hair salon cut for longer and you will save money in the long run.