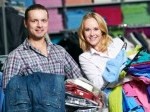 Can you believe it? Spring is just around the corner. That means that it's time to pack up our sweaters and scarves and start looking for a few new pieces to add to our "it's getting warmer" wardrobe.
If you happen to be someone who is still recovering from all of the Christmas shopping that you did a few months back, you might have the kind of budget that speaks more to "window shopping" than actually spending any money. The good news is that we have a few simple ways that you can save on a new springtime wardrobe; ways that will keep money in your pocket, a smile on your face and you looking super cute.
Write down what you actually need. Shopping for clothes is a lot like shopping for food in the sense that you tend to make smarter financial decisions when you plan ahead. So, before you head out to the mall, jot down a list of things that you actually need. It will help to keep you focused while looking at all of the pretty new trends that are hanging in the storefront windows.

Break out of your "color routine". Spring is a time for pastels and bright and cheerful hues. That said, another mistake that a lot of people make is purchasing items in colors that they already have plenty of. If your closet is full of greys and blues, you probably don't need another grey dress or blue top that you may not wear more than once. Go with something yellow, pink or green instead.
Rethink using credit. Although we've all read articles and seen news reports on how much debt a credit card can cause, a lot of us still find ourselves using the ones that we have more than we should. No matter what your credit limit may be, remember that credit cards are basically financial loans; loans that come with interest. There are many financial advisors who will tell you that if you can't pay cash for what you want, you don't really need to get it. We'll just say that if you do go the cash route, the real benefit is that your new suit or skirt is bought and paid for the moment you leave the store. You don't have to anticipate a bill coming in the mail the following month.
Don't overlook thrift stores, antique malls and consignment shops. If you're looking for a dress for prom for yourself or someone you love, then we understand why you might want to take the "mall approach". But when it comes to other items, don't rule out going to thrift stores, antique malls or consignment shops. Aside from the really great deals that you can get on a lot of used clothing, some items were donated that still have the price tags on them.
Browse online. Shopping online can be extremely convenient. You can look at clothes from stores from literally all over the world and thanks to websites like Retail Me Not, you can often find promo codes with some really great discounts (including free shipping). So, whether it's going to your favorite store's website for an exclusive online deal or shopping online at places like Overstock, definitely don't rule out shopping for spring clothes on the internet. It can save time and the price of the commute to your local stores around town and it will be delivered to your front door.