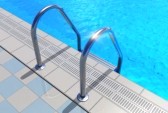 One of the best things about the summer season is that fact that it's the peak time of the year to go swimming. And if you're someone who happens to own a swimming pool in your own backyard, that's even better because it makes it convenient to swim whenever you'd like.
Of course, in order for you to be able to make the most out of your pool swimming experience, it's important that you properly maintain it. So, if you're interested in knowing about some of the ways that you can save money on annual swimming pool maintenance costs, we've got five great tips for you below:
Run the pool pump on a timer. Something that helps to keep your swimming pool clean on a constant basis is to have a pool pump inside of your pool. That is what draws the water from your pool into the skimmer. One reason why this can get to be a pretty hefty expense is because some people leave their pump running for hours and hours. Something that you can do to avoid this and also reduce your energy costs is to install a pool pump that comes with a timer. That way, it will automatically cut off when it's done doing its job.

Try homemade products. If you're someone who considers yourself to be pretty eco-friendly, then there's a pretty good chance that you already use homemade cleaning products like vinegar, baking soda and lemon to clean the rooms of your house. Well, did you know that you can also make a solution for cleaning your pool as well? Hydrogen peroxide, baking soda and borax are all effective money-saving cleaners. You can read more about how to properly apply them by going to eHow and putting "homemade swimming pool cleaners" in the search field.
Consider a salt-water chlorine generator. Although a certain amount of chlorine is needed in order to keep your pool clean, there are a lot of people who prefer to use as little chlorine as possible. Mostly because too much chlorine can prove to be unhealthy. One alternative is to install a salt-water chlorine generator. It actually uses salt, dissolves it and turns it into a form of chlorine. It's proven to be a safer and economical approach.
Invest in a pool water test kit. Another thing that's important to do is check the chemical levels in your water. And while you could hire a professional to do it for you, there are actually some pool water test kits that you can use yourself. Some websites that carry them include Amazon, Walmart and Pool and Spa Depot.
Do your own cleaning. If you were to ask a company like SwimEx about how you can save money on pool purchases that you need in order to clean your pool, one thing that they would probably recommend is that you clean your pool yourself. Although this might initially sound like a big task, with the proper set of instructions, you can successfully do it yourself. For tips on how to clean your own swimming pool, visit PoolandPatio.About.com and put "clean your swimming pool" in the search field.