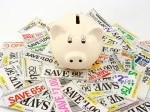 If you're in charge of the household budget, you may be constantly on the lookout for ways to cut back on the essential products you buy the most, not to mention big-ticket items that you purchase only infrequently. And whether you're purchasing toilet paper, frozen pizza, or electronics, there are all kinds of ways to cut costs if you're willing to put in the time and effort. Luckily, there are also tools and strategies that will help to streamline the process. Here are just a few money-saving tips that should truncate your spending.
Join a coupon club. If you simply don't have the time to engage in hours of extreme couponing as though it were a full-time job, then you can get a little relief and a lot of savings by joining a local coupon club. Each member splits tasks like checking circulars, searching for manufacturer coupons online, and matching up deals for increased savings. You'll realize the same savings as extreme couponers with only a fraction of the effort.
Double dip. One great way to save that many people overlook is through double dipping on coupons and discounts. For example, if you have a store coupon for an item that you purchase frequently, you might also look online for a manufacturer coupon that allows you to increase your savings. And if you manage to use them when the item is already on sale, you might end up walking away with a steal. It is for this reason that many couponers stockpile non-perishable items; they simply might not find such a good deal down the road.

Shop online. You might not want to order milk and eggs online, but there are plenty of household essentials that you can order via the internet in order to secure better prices. This is especially true if you buy in bulk. In addition, you can often take advantage of manufacturer clubs that provide you with free samples (sometimes full-size) just for signing up for a membership or accepting an email newsletter (which may also deliver coupons and other deals).
Consider second-hand. When you think about household essentials, you might list off food, toiletries, and other items that you replace frequently. But as your family grows, your essentials might include new furnishings, as well, since your space and storage needs could change over time. In this case, you might want to consider that there are several options that don't require you to purchase brand new couches, bed frames, dressers, and the like. If you're worried about the level of quality offered by second-hand options like thrift stores, try checking Craigslist for "practically new" items or go to a reclaimed furniture store (where many of the items are refurbished but still sold at a discount). Or if you simply can't stomach the idea of used, try outlets and overstock stores (like Overstock.com) instead of paying retail price.
Use your Smartphone. They don't call it smart for nothing; thanks to the wide world of apps you can get help with nearly any problem, including saving money on household items. While there are plenty of shopping apps that offer competitive pricing and coupons, the one you might want to start with is RedLaser. This freebie lets you scan nearly any item in-store, from cereal to steam mops, and find nearby retail locations where it's selling for less. It will also give you similar alternatives that cost less, as well as access to open-box items (in stores like Best Buy, for example) that may be discounted. And of course, coupons, discounts, and other deals are right at your fingertips.