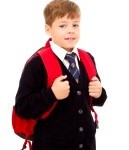 Education is the key to opportunity, and your children deserve the best. If you're not comfortable with the idea of sending your children to a public school, you're not alone. Public schools have numerous problems with funding, overcrowding, behavioral issues and quality of education. Like many parents, you may prefer to send your kids to a private school, but how are you going to pay for it? Read on to learn the best ways to save money on private school costs.
Seek Out Financial Aid
Financial aid isn't just for college students. Many private schools are willing to offer financial assistance to families in need of additional funds for tuition and other expenses. You may also be able to find government support for your kids' educational needs. Ask your schools about any possibility of financial assistance, and they'll surely be able to point you in the right direction. Don't count yourself out of the possibility of private schooling without seeking financial aid first.

Inquire About Discounts
Tuition rates are not written in stone. In fact, many schools offer a range of discounts to the families that they serve. If you have multiple children who are all going to be attending a private school, send them to the same school to get a multiple student discount. You may also be able to get a discount through your church or other affiliations with local private schools. Clever shopping pays off in school just as it does in other areas of life.
Get Back to Work
If you or your significant other have become the stay-at-home parent in recent years, consider going back to work to make your children's education easier to finance. An extra source of income in the house can be tremendously beneficial, even if it's only part time. Now that the kids are in school you won't need to spend as much time at home, so you're more free to pursue professional opportunities. There may even be the possibility of working from home, so consider all possibilities for generating more income in your household.
Make Room in Your Budget
Careful budgeting can make the cost of private schooling much easier to bear. Most people don't even realize the amount of money they waste on frivolous expenses. Take a look at your regular spending habits, and you'll likely find plenty of room for budget adjustments. Something as simple as making your own coffee for work, rather than stopping at the local coffee shop for your morning latte, can help save hundreds of dollars every month.
Keep Those Grades High
Kids with higher grades are almost always given first consideration and more flexibility with regards to admissions tuition. Look into local New Jersey tutoring services to help your children keep achieving in class with the help of private instruction, or review their lessons yourself after school. Children with good grades are highly desirable for any school, and you may be able to get breaks on tuition if your kids are a cut above the rest.