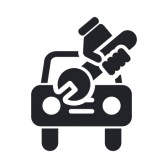 If there's one sound that none of us want to hear, it's the sound of our car not starting. Although sometimes it could be due to something simple like leaving our lights on overnight or not having enough gas in our tank, oftentimes it's due to something that is far more complex; something that requires spending money in order to get our car repaired. And aside from the fact that putting our car in the shop can be somewhat of an inconvenience, based on what the problem is, it can also result in having to pay quite a bit of money.
If you'd like some tips on how you can save money on unexpected car repairs, this is just the article for you. We're going to share with you five ways that you can do just that so that you can be out on the road while still keeping money in your pocket below:

Go to a reputable mechanic. There are a lot of people who have horror stories about being ripped off by their mechanic. And oftentimes, it's because they didn't pick a reputable one. The best way to keep from having the same experience is to first look for a referral from someone that you trust. Then make sure that the mechanic is licensed. And don't agree to pay for anything that was not brought to your attention (and you approved of) before the mechanic started working on your car.
Do preventative things (on a consistent basis). Some people have ended up spending a lot of money in repairs because they did not do some of the preventative things that cars need like changing the oil every 3,000 miles or changing the timing belt every 50,000-90,000 miles (depending on your vehicle). So, one of the best ways to keep from blowing your budget on car repairs is have regular oil changes, tune-ups and anything else that your mechanic says that your vehicle requires on a consistent basis.
Pay the mechanic for the labor only. When you take your car to a mechanic, based on what your vehicle needs, you might end up paying for parts and labor. Something that you can do to reduce that is to purchase the parts yourself. However, when you do try not to buy them from the dealership. You will definitely pay the highest fees there. Look online instead. And don't forget to consider refurbished parts. They tend to be a mere fraction of the cost of buying new.
Look for someone who specializes in ding repair. If you drive your car long enough, you will eventually get a ding, dent or even chip in the paint. And while you could go to an auto body company like Classic 2 Current to get it repaired, sometimes those kinds of shops can be pretty pricey. To save a couple of dollars, look around for a used car lot that has a ding specialist who works for them. They will charge you a lot less.
Try doing some things yourself. Thanks to YouTube, there are some things that you can do yourself which will keep you from paying a mechanic. This includes changing your oil, putting on new brake pads and checking the fluid levels of your car. So, don't be afraid to do a few things on your own. When it comes to your car, you can save you time and also quite a bit of money too.