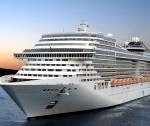 Cruising has become one of the most popular vacation options over the past couple of decades. While not much has changed when it comes to seafaring technology since World War II you wouldn't know it when you first step foot upon a modern cruise ship. These things are marvels of technology and entertainment. You'll find food that rivals Michelin-rated restaurants, world-class entertainment, Wi-Fi lounges that work even in the middle of the ocean and even a rock climbing wall. You get it all, plus stops at some of the most spectacular ports of call in the world. You can see most of the Caribbean or the Mediterranean in a week's time on a cruise, and there's something for the whole family to enjoy. All of that value aside, you're still going to want to be as frugal as possible. It's just a necessity these days. So here are five ways to save money when you book a cruise.
First of all, book as early as you can. A state-of-the-art cruise ship is literally a floating resort, and the line loses money if a ship departs with empty cabins. They'll want to fill as many spots as they can, as early as possible. So keep tabs on the schedule and try to book your trip as much as six months in advance. You'll find the cheapest rates that way.
You can also save money on a cruise vacation by traveling in a group. The larger your party, the deeper the discount they'll be willing to give you. If you've got children in the party you might find even more savings. Many cruise lines will book children under a certain age for free or for a steep savings, to encourage the rest of the family to come along.

Although most people book travel themselves with the power of internet searching in their corner, you might want to consider booking a cruise with a travel agent. Cruise lines work in conjunction with quality travel agents to book out larger ships, and they will have access to deals you won't find online. A travel agent can also work with the line directly, even calling them up to find additional cabins as soon as they are available. Working with a travel agent is also a great way to discover upgrade opportunities that you won't find online.
If you are booking your trip online, consider booking directly with the cruise line. Start off by shopping the discount sites, and write down a list of the best deals you can find. But then you should reach out to the cruise lines themselves. As with a travel agent you might find cabin availabilities or upgrades that aren't listed on the discount sites. At the very least the cruise line should honor those lower prices for booking with them directly. And you can wheel and deal with a line employee as well. They might throw in something extra.
Finally, look to your credit cards to round out your deal-hunting. If you have a credit card with a rewards program you'll often find cruise discounts you can trigger. Keep an eye out for any monthly newsletters from your credit card company. In the travel section you'll see discounts on a reykjavik hotel, airfare to Paris or a Central Park carriage ride. Somewhere down the list you should see a section on cruising. If you book the trip with your card you could save money. Just make sure the savings they offer matches or beats what you would do otherwise, especially if your interest rate is steep.