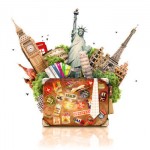 Traveling is such a wonderful thing to do; the sheer mention of the 'T word' sets my mind off in a hundred directions. What will it be? Well there's always a beach holiday. Oh I can smell the suntan lotion! We could take a trip to Tanzania to see the migration of the Wildebeest across the Serengeti. I must just remember to pack my mosquito repellent. The list seems endless, doesn't it? Whether you're packing thermal coats, hiking boots or board shorts to go with your boarding pass; traveling costs money. Just try to head further than your country's borders, particularly if you're keen to head across the Atlantic, and the initial budget you had in mind will be horribly dented. Let's check out our list of 5 Ways to Save While Traveling, to help you hang on to a few pennies so you can squeeze a few extra days into your itinerary or perhaps have some Chianti, instead of just cola.

Air Fare
Much of your travel money could be spent getting you to 30 000 feet, so the best way to get the most out of your budget, is to make sure that you get the best air fare possible. Make sure to get your dates down early and to reserve your seats, as the ticket prices go up the closer it gets to your departure date. Spend good time online exploring various pricing options with different airlines that fly to your destination. Try a travel agent too, as on more popular routes, they bulk buy seats and you may find them a few bucks cheaper than buying directly from the airline. You might even find that a much smaller carrier does a layover at your destination; but weigh the saving up against possible poor service or extensive layover times that might see you having to sleep on the floor of the airport departure lounge with your suitcase strapped to your leg. At least you'll have some great stories to tell.
Accommodations
Heaps of money can be saved if you plan this part well. It seems obvious, but many people secure a first and last day's accommodation and then hope to wing it on the days in between, to keep their itinerary flexible. This is not a great idea, unless your initial budget was just for fun. The kind of accommodation you choose is also key, as you might hope to give a backpackers lodge a go, to save dollars for gifts and that parasailing gig you've put on your bucket list, but realize that keeping the costs that low, comes at a price. Hotels are always a great option, and you can count on most offering a hearty breakfast that could help to see you through to a late lunch, but you lose a certain amount of flexibility and space, especially if you have a large family. Renting a whole house for your holiday is now as fashionable as can be, just like you'll find on Housetrip.com. You can save up to half of what you'll pay for a hotel room, and it's like a beautiful home away from home, wherever in the world you'd like to visit.
Food
Definitely worth being in the big 3, is how you'll be getting your energy to be tourist and to get your foreign culinary thrills. You know you'll want to visit the local restaurants but remember to ask to see a menu before agreeing to be seated, because you might find your wallet very empty at the end of your meal, and your tummy not nearly as full as you'd like. Prices vary ridiculously along the tourist strips, so make sure you're not paying top dollar for just a burger and a pint. If you're really trying to squeeze every penny, find the local supermarket and grab snack options off the shelves along with some fresh breads, cheeses and cold meats. There's much fun to be had, sinking your teeth into something delicious that didn't cost much all, while off the beaten track. Compare hotels or other accommodation based on who offers the biggest breakfast options, and perhaps even dinner. If you have someone trustworthy showing you around, why not even get them to show you where to find good street food from vendors or at night markets, and to be honest, you can seldom beat the fast food franchises, 'cause at least you know what you'll be getting.
Tours
If you feel the need to be part of a tour group so you can get the best air-conditioned transport and knowledgeable tour guides, then do just that, by all means, but why not work out your own tour sightseeing trips? That way you can skip the things you know will make you yawn, and you can make your own way around. With more than enough resources available in travel guide books or online, you'll know where to go and what it's all about without too much fuss. Many travel tours end up taking you straight to the more expensive curios shops with their eye on getting good commission. You can actually save a whole lot with simple planning, asking the right people, and even finding online forums where regular folk, just like us, share their travel stories.
Safety And Security
Nothing affects your travel budgeting plans more negatively than actually having your hard earned cash stolen or being scammed. Why not make use of your bank's travel cash card options that are pin protected, and since your cash remains king on your travels, invest in a money belt that is almost completely flat and can be worn under your clothing. This remains an excellent place to keep cash, cards and even a passport. Ask around to be sure to avoid areas that are considered unsafe and be alert, especially at night. Also, avoid scaly sales clerks and wannabe tour operators who will do whatever they can to get their hands on your money, even if it's in a dishonest way. If it seems too good to be true, it usually is.
So there you have it. Plan well, be smart, and 'save' travels to you all!