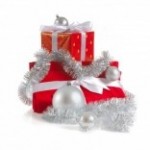 There's nothing quite like witnessing the awe and excitement when kids come downstairs on Christmas morning to see a pile of presents under the tree, or the joy of presenting a Hanukkah gift that your child has been begging for. In fact, people can get so caught up in these special moments that they'll spend any amount of money to ensure gift recipients are pleased. Unfortunately, this often leads to rampant overspending, made all the more likely by the many sales that encourage holiday shoppers to blow their money on great deals for items they don't really need. We've all been caught in this trap. But there are ways to save this holiday season and reach the New Year without having to take a second mortgage on your home in order to pay credit card debt.
Start with a budget. If you want to save money you absolutely must set a budget and find ways to stick to it. If you start spending willy-nilly, you're going to go overboard. With a budget in place you can calculate how much you need to spend on each person, shift allocations if you end up spending a little more or less than anticipated, and come in at or under your budget by the end of the holiday shopping season.

Make a master list. Once you have a budget in place, it's time to create a list of gift recipients. And just like that jovial elf with the presents, you need to check it twice. Start by listing everyone you want to give gifts to. Then break out your budget with amounts you can spend on each person. If you come up short, rethink your list. And remember, you don't have to buy presents for everyone. You can quickly cut costs by removing acquaintances to focus on loved ones. Or simply plan for baked goods or cards for coworkers, extended family, and others on the fringe of your contact list.
Hit early sales. If you want to skip the madding crowd and the urgency to make impulse purchases on the spot, try shopping well in advance of Black Friday and Cyber Monday sales. Instead of waiting for the Thanksgiving-to-Christmas crunch, start early by shopping end-of-summer sales. You never know what you might get done before the rush of holiday shopping starts in earnest.
Build shopping carts for free shipping. Many websites offer free shipping when you purchase more than a certain dollar amount worth of goods. So take your time building up items in shopping carts on various sites (Amazon is a great option), taking advantage of sale prices AND ensuring free shipping on orders.
Sign up for DOTD sites. Deal-of-the-day sites are a great option for saving when it comes to holiday gifts, especially if you like to give experience gifts like spa services, dinner out, or passes to local movie theaters, museums, sporting venues, and other activities. And the earlier you sign up, the more time you have to select the perfect discount activities for loved ones.
Consider gift alternatives. If the prospect of trying to find the perfect gift for everyone on your list has started to fill you with anxiety and even dread, it's time to make your holiday shopping simple and stress-free with alternatives to the traditional gift. You can, for example, opt for gift cards from Starbucks, Bath and Body Works, Amazon, GermanSteins.com, or any number of retail or online stores that your family and friends enjoy. But you might also want to consider donations to charitable organizations in the names of your loved ones. Most adults don't want or need more "stuff", so this is a great way to give a gift that makes the recipient feel great and provides much needed services to those who are truly in need.